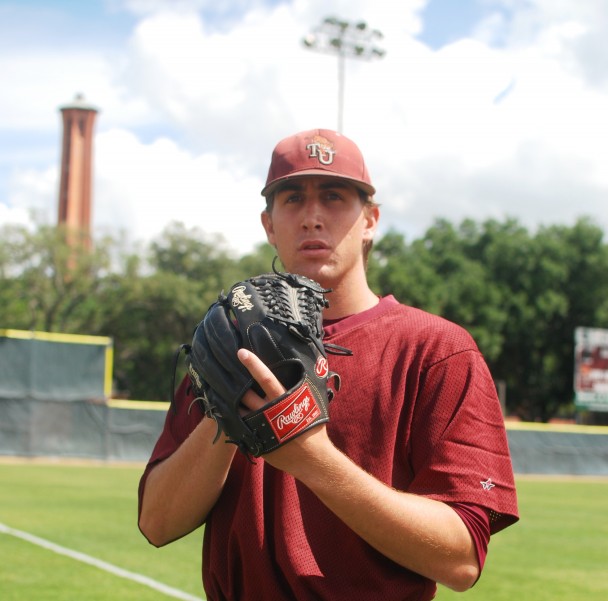 Trinity's baseball team has seen a historic season this year, with 26 wins and only six losses.
The team event garnered the attention of Fox San Antonio News, which aired a story about the Tigers on March 31.
Until Tuesday of this week, when they were bumped down to 4th, they were ranked the #1 D-III team in the nation.
Although head coach Tim Scannell appeared in the Fox report saying that "this is probably our least talented team," their success this year would make fans believe otherwise. Assistant coach Zach Fregosi points to the team's professionalism as an outstanding quality.
"These guys are very good at playing baseball in a clean, uncluttered way. They are a very mature group and have a lot of confidence in each other. They are extremely mentally tough and have proven it in close games this year," Fregosi said.
In addition to the team's overall commitment, they have some talented individuals, including senior right-hander Ben Klimesh, who is hoping to play professionally in June in the minor leagues.
"I'm looking forward to go out with a bang, win the national championship with my teammates and then in June get a call for the draft," Klimesh said.
Klimesh is throwing between 91-96 mph this year, and his consistency on the mound has been a mark of the maturation process over his four years at Trinity.
"We've played together all four years he's been here. It was awesome to watch him grow as a pitcher; he always had the talent"¦ it's just been bringing it all together," said teammate Dom Robusto.
"Coach Smith, Coach Scannell and Ben have done a great job of communicating and working hard to get where he is today, although the vast majority of the credit falls on Ben's maturity and work ethic," Fregosi said.
Although the team has been doing extremely well this season, both the players and the coaches recognize that their luck could turn at any point.
"We're only guaranteed these next three weeks, so we have to keep coming and working, stay humble and understand how fragile this game is. We've had a great season so far, but we have to remember that it could be lost at the snap of a finger," Klimesh said.
They were reminded of this fact on Friday in a double-header against Southwestern, where they lost 6-2 and 9-7.
"This was a tough weekend for us"¦ we just didn't play well. We couldn't get anything going offensively, our pitching was inconsistent and lacked aggressiveness and we didn't play quality defense," Fregosi said.
However, the team came back on Saturday and swept the game with a 10-0 win.
"I was proud of our response to all that with a convincing win on Saturday," Fregosi said.
The game was a win for Klimesh on a personal level as well, as he broke Trinity's single season record for strikeouts on Saturday at Southwestern. Klimesh has recorded 122 strikeouts this season.
In terms of improvement, the team needs to work on their offense and better execution on the small-bat.
"Our offense is the weakest it has been in years; we need to get better at swinging the bat, get better on the plate. Our defense and pitching has carried us to where we're at right now," Robusto said.
The team has seven games left, excluding Conference, Regionals and the ultimate goal of the National Championships May 25-29. The regional format is six teams, double elimination. With four wins there, the Trinity Tigers baseball team will qualify for the College World Series.
The team has made it to regional championships only twice in the history of the program; based on their record-setting season so far, the baseball team has realistic hopes to overcome their challenges and win nationals.