The Best of 2012: Top 10 TV shows – "Mad Men," "Girls," "Homeland" and more
Note: I don't watch everything. This year in particular, I've fallen behind on a number of shows I like. Of what I did watch, here's what I most enjoyed:
10. Chuck (NBC)

The little spy comedy that could, "Chuck," by all logic, shouldn't have lasted two seasons, let alone five. Its survival is a testament to NBC's ratings struggles, shameless product integration, and, above all else, a passionate fanbase. The latter, of course, doesn't come from thin air. "Chuck" accumulated its fans (all 100 of them) by telling the funny, exciting, and sweet story of Chuck Bartowski (Zachary Levi), a dorky store-clerk-turned-action-hero who fell in love. Equal parts action, comedy, and romance, "Chuck" was unlike anything else on TV. It may not have had much depth, but "Chuck" (mostly) hit all the right notes to keep fans cheering it on. The fifth and final season lacked some of past years' spark, but it was still entertaining and led to a series finale that hit just the right, bittersweet note.
9. Veep (HBO)

As cold as "Chuck" is warm, "Veep" is about as unsentimental as TV gets. Anchored by a fantastic leading turn from Julia Louis-Dreyfus and filled out by an outstanding supporting cast, the story of Vice President Selina Meyer (Louis-Dreyfus) features some of the wittiest dialogue and sharpest political satire you'll find on TV. I think there's a limit to how much one can really love a show this relentlessly cynical, but "Veep" has pushed this limit through sheer cleverness. Having aired as solid a debut season as any, I eagerly await whatever "Veep" has in store for us next year.
8. Parks and Recreation (NBC)

After a shaky first season, "Parks and Recreation" found its footing and became one of the sweetest, funniest series on TV. The show's greatest asset lies in its characters, each as affectionately written and portrayed as the next. Whereas previous seasons featured more standout moments of emotion and hilarity, this year's episodes have mostly settled for being pleasant viewing. That's not to say "Parks and Recreation" hasn't had its high points in 2012–the romance between Leslie (Amy Poehler, continually topping herself) and Ben (Adam Scott, grounded and hilarious) has been a particular joy to watch grow–but they've definitely been a bit fewer and father between than in years past. Regardless, this is still one of the most wholly likable series on TV.
7. Archer (FX)

"Archer's" most distinctive feat lies in its writers' and cast's willingness to venture beyond perceived limitations of the show's medium. Each season has been increasingly serialized and that internal memory lends "Archer" an undercurrent of pathos lacking in many animated comedies. The cast's performances, led by H. Jon Benjamin and his wonderfully droll delivery as the eponymous anti-hero, are remarkable–each character is fully formed and consistent. Together, they have a chemistry to rival TV's best ensembles. On top of that, the animation deftly mixes "Mad Men"-style costumes with a variety of elaborate set pieces and well-choreographed action scenes. Oh, and it's also really, really funny.
6. 30 Rock (NBC)

Oh, "30 Rock," how I'll miss you. Against all odds, Tina Fey's ratings-starved sitcom has survived, offering in 2012 a remarkably solid sixth season and the bulk of a joyously insane seventh season victory lap. Fey and company have always rattled off an unfathomable number of jokes per minute and this year's crop has been consistently top-notch. There were times during "30 Rock's" middle seasons that I feared the show had outstayed its welcome, but now the opposite is true. As sorry as I'll be to see this show end in January, I'm sure glad I get to miss it.
5. Homeland (Showtime)

I waited until tonight's "Homeland" season finale aired to post this column in case the episode's events dramatically altered the show's place on my list. Well, as crazy as tonight's show was, it didn't really tell us anything about "Homeland" we haven't known for weeks now. Last year, "Homeland" offered a gripping, character-driven thriller grounded in the real world of U.S. security and politics. It wasn't a perfect first season, but it was close. Claire Danes and Damian Lewis gave two of the best performances on TV and the careful plotting almost matched the outstanding character work. This year, "Homeland," taking a cue from Danes's Carrie Mathison, took a turn for the crazy. The second season moved at a breakneck pace; significant events occurred seasons before the audience could reasonably expect them. Approximately halfway through the season, I found myself yearning for the slow-burn approach of the first season and tiring of the operatic twists and turns.
Soon after this disenchantment began to seep in, however, the most controversial episode of the series' run to-date aired and I reevaluated. It became clear that the "Homeland" writers had fully embraced the soapiness of which I previously thought they were unaware or perhaps ashamed. For better or worse, the second season of "Homeland" was pure soap opera craziness, in which the characters' love triangles and feelings had a traceable impact on national security and global peace. It was an interesting concept made fascinating by the powerhouse combination of Danes and Lewis and the quiet support of co-star Mandy Patinkin. The stakes were completely implausible, but they offered the season a manic energy, one that I'll miss as the wait for season three begins.
4. Louie (FX)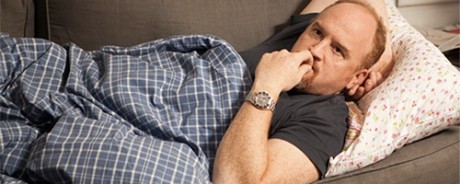 "Louie's" place on this list has risen steadily since my first draft. I love the show, but I tend to take it for granted. Standard in a "Louie" episode are novel insights, a healthy mix of smart and lowbrow humor, compelling performances, and poignant emotional moments. Some episodes are more structurally novel than others, however, and the ones that adhere too closely to the "Louie" formula can feel lacking. With a little perspective, though, it becomes clear that the most formulaic "Louie" episode is more original than the vast majority of TV. Louis C.K.'s pet project was in top shape this year, offering episode after episode of trademark self-deprecating humor and a genius three-part arc that captured many of the things that make this series so wonderful.
3. Breaking Bad (AMC)

Returning from a masterful season four, these first eight episodes of "Breaking Bad's" final season were about as compelling as one could hope. This dark, beautifully shot, and constantly surprising tale of teacher-gone-drug-kingpin Walter White (the still-wonderful Bryan Cranston) sets the standard for mixing high-octane action with intimate character work. The half-season suffered from pacing issues–likely a result of the odd scheduling–and I found myself less invested in Walter's plight now that he's incontrovertibly a villain, but the episodes also featured series-best work from actors Anna Gunn, Aaron Paul, Betsy Brandt, and Dean Norris. Creator Vince Gilligan and company have laid some very promising groundwork for 2013's eagerly awaited conclusion.
2. Girls (HBO)

For a moment during the crafting of this list, I had "Girls," from 26 year-old creator-writer-director-star Lena Dunham, placed at the top. It was certainly the most pleasurable series to watch unfold this year, coming out of the gate fully-formed with tonal confidence and frank insights. The show's principal achievement lies in its ability to capture the ugly and mundane while maintaining an uplifting attitude towards life.
Remarkably, "Girls" performs this balancing act without coming across as self-congratulatory. (Consider distant TV relative "Sex and the City," in which observations had 1/4 the intelligence and 10x the back-patting.) This humility is perhaps an extension of the show's finest creation: protagonist Hannah Horvath. She's spoiled, sheltered, and selfish, but self-loathing enough to make her worth rooting for. The show's detractors seem to impose these flaws on "Girls" as a whole, but the writers are fully aware of their characters' shortcomings and mine these faults for dark, subtle comedy. It wasn't a perfect season–at times the storytelling veered too far into standard sitcom territory–but, more often than not, "Girls" was operating at a level of sophistication comparable to TV's all-time greats.
1. Mad Men (AMC)

A disappointment for some, the fifth season of "Mad Men" was certainly broader and more formally experimental than previous seasons, boasting many of the show's most controversial storylines to-date. Among other subplots, the 1960s period drama brought us Don's marital strife with new wife Megan , the introduction of Fat Betty, a few heartbreaking Joan moments, Roger's foray into LSD, Peggy's office malaise, the downward spiral of Lane Pryce, the return of creepy Glen, and a look into the Hare Krishna cult. Season five offered bolder, more singular television from a series that has always been bold and singular. "Mad Men's" writers took the show's most polarizing elements"" overt symbolism, heavy-handed themes, and general goofiness""and placed them in a position of prominence. There was no more pretending that, just because its foundation lies in character rather than plot, "Mad Men" is a subtle show.
The reasons this worked are multifold, but I'd argue that it primarily has to do with time. On one hand, "Mad Men" worked toward this type of storytelling for four years, evolving and making clear what the show is and what it is not. On the other hand, this season's episodes began in 1966 and ended in 1967″"a time when previously unspoken tensions fueled newspaper headlines and quietly accepted norms became the subject of fiercely vocal debate. It may have been a bit of a mess""especially compared to the cohesive construction of season four""but it was a mess with purpose that featured some of the best acting on TV.
So, there you have it:
Mad Men
Girls
Breaking Bad
Louie
Homeland
30 Rock
Archer
Parks and Recreation
Veep
Chuck
Do you agree? What would you add or eliminate? Weigh-in with your favorites in the comments.
View Comments (3)