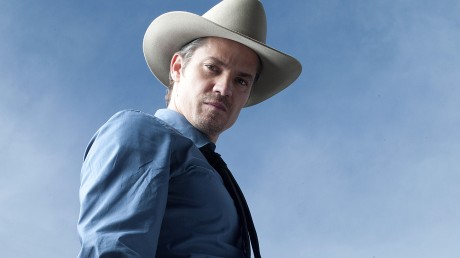 "Mad Men," "Breaking Bad," "Game of Thrones" "" these are all shows that seem to supersede viewers' lives, and for an hour or two, become their sole focus. They inspire viewing parties, clog Twitter with hashtags and trending topics, inspire top 10 lists, GIF galleries and lengthy theoretical and philosophical discussions. Shows such as these and a few select others seem to capture the overwhelming majority of the TV zeitgeist and end up being the "water cooler" shows of the modern era.
After watching the fourth season finale of "Justified" last week, I found myself concerned that this show didn't seem to be included on this list of greatest shows currently airing on television, and although some fandom of the show exists, in general it doesn't maintain the same coverage and praise as these other shows I have mentioned.
In case you are already caught up on the most talked-about shows and are looking for more, or are just secretly looking to be the first of your friends to "discover" an incredible show none of your friends are watching, below are just a few of the reasons why FX's "Justified" is worth checking out and why it is possibly one of the best shows currently on television.
Dialogue
The show's creator, Graham Yost, comes from a background of writing novels and short stories (one of which the series is based on), and it shows in his work. The main character, U.S. Marshal Raylan Givens, may at first seem to have been plucked from a Spaghetti Western with his signature cowboy hat, quippy one-liners and tendency to shoot first and ask questions later, but as the series and the character develop, he becomes less of a caricature than you would first imagine.
The monologues, stories and anecdotes delivered by Timothy Olyphant as Givens have ended up becoming a signature of the show and are easily responsible for some of the most profound and quotable lines in all of modern TV. Although Raylan has a tendency to steal the show with his captivating dialogue, the surrounding characters, villains, fellow marshals and others are given dialogue just as intelligent and entertaining to deliver.
For a show that prominently features gunfights and explosions, the "verbal dueling" between characters on the show end up being even more of a highlight week to week.
Cast and setting
Like with any great cable drama, Yost has managed to expand the setting and cast outwards from the original premise with a masterful touch. After four seasons, viewers start to feel they really know what Harlan County is all about. An established host of reccurring characters that stick around make the setting feel more realistic than the typical TV setting.
On top of their continued use in the ensemble, the show's creators draw upon a host of their connections to pull some of the greatest actors in the industry into supporting roles. Margo Martindale, Stephen Tobolowsky and even Stephen Root have all played incredible characters on the show, all of whom may have seemed incompatible with a dark drama, but were memorably incorporated.
A dash of dark humor
Many of the great "dark" dramas that captivate the nation's attention in the modern era tend to be celebrated for occasionally mixing in an equally dark sense of humor. Yost and the rest of the "Justified" writing staff are no exception, and I would argue they are some of the best. Characters have been known to argue literary semantics, movie references and even biblical anomalies, all while engaged in elaborate gunfights.
Even though FX's "Archer" may also be in my current top 10 list and is actually a comedy, I may even argue "Justified" to be the show on the network that has made me laugh the hardest.
In general my brief explanation of the show may not do it justice, but if you have not checked out "Justified" (it isn't streaming on Netflix currently but is available on Amazon Prime and iTunes), do yourself a favor and at least check out a few episodes. I guarantee it will surprise you, or at the very least get your mind off of the impending doom that is late-semester Trinity life.