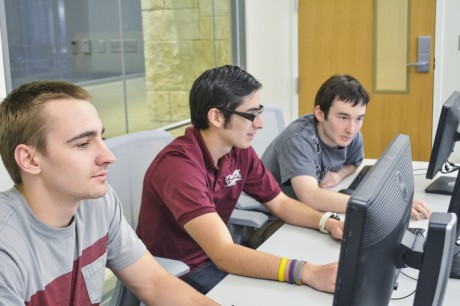 Trinity University sent a team of three to compete in the San Antonio Cyber Defense Competition, a national competition with regional qualification on the line. Despite being down five people to most of the teams, Trinity's team came out as one of the four to qualify for the southwest regionals.
Paul Myers, the team's faculty sponsor, says the competitions are consistent with real-world organization IT issues.
"These particular competitions are purely defensive. There is a Red Team, comprised mostly of professionals who will persistently try to attack and bring down the services being provided by the competing team. At the same time, a White Team sends orders to the competing team, asking for changes in the system, reports, policy implementations, etc.," Myers said. "The competing team acts as though it were providing IT serves to a bona fide organization. It [the White Team] must respond to that organization's demands and requests, all the while being attacked by outsiders [Red Team]."
Ashton-Drake Giddings, Thomas Witecki and Evan Garvie represented Trinity. None of them have extensive experience except for Giddings. Without a true coach like many of the other schools, Giddings has acted as a coach as well as competitor. While there are some advantages to only having three members, Giddings acknowledges that there are disadvantages as well.
"I guess the only real advantages of having three people would be the fact that you don't rely on as many people," Giddings said. "But there are disadvantages. Of course, if you have a good team, it takes a lot of weight off your shoulders since you can distribute the workload.  There are eight machines, so you'd want to at least have six people work on the machines, [which is] another advantage of having more people.  There are a flurry of times where management asks for a report.  To be most efficient, you must have someone that has the job of only doing reports."
Witecki agrees with Giddings that there are far more disadvantages than advantages to having a three-man team.
"There are no advantages of having three people competing compared to eight. It is actually a big disadvantage," Witecki said.
The team hopes that the early success will motivate other students to join and improve the strength of the team.
"With the inexperience that the team has, it'd be easy to say that we don't have a shot, but the thing is that Trinity University hosts some of the brightest minds, and I feel that if I'm able to gather enough people and we put enough effort in the days to come, we'd have a fighting chance," Giddings said. "I didn't think we'd make it to regionals, but I was wrong.  Plus, we've already placed in some other competitions." (Giddings and Thomas placed in second at the TexSAW competition.)
The Trinity Cyber-Team will next compete in the Southwest Collegiate Cyber Defense Competition with the hopes of building a bigger team and continued success.