New free app brings greater security to campus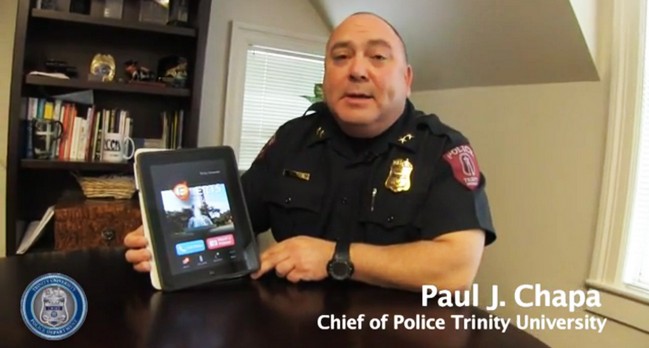 Just before spring break, the Trinity University Police Department announced a new application available to students and faculty that offers a variety of features to notify officers if a problem arises.
The app is called ELERTS and can be downloaded to any smartphone or tablet. There are multiple features that connect students with TUPD both on and off campus.
One of the main features is called the Virtual Escort program. This feature is intended to give users quick access to TUPD if they are alone. Users open the virtual escort as a precaution and keep it open until they reach their destination or need police assistance. If users select that they need police assistance, TUPD officers can determine the user's location.
"The Virtual Escort feature, through GPS, lets TUPD know that you're out walking around, but it doesn't signal them to come unless you press the button saying you're unsafe," said Paul Morales, community awareness resource officer.
Construction taking place all around campus has caused Trinity students and faculty to park in new areas that may be unfamiliar to them. Many already feel the reassurance provided by the Virtual Escort feature.
"The Virtual Escort is my favorite feature," said the Rev. Stephen Nickle. "It's like having [assistant chief of police] Pete Perez in your pocket!"
Another feature of the ELERTS app is called Sky Writer. Sky Writer can be used on or off campus. It notifies email contacts of your progress when traveling.
"The Sky Writer helps when you're off campus. Anywhere in the world where there is Wi-Fi, this will work," Morales said. "You can send a message letting someone know you're okay or need help. The person will receive a picture of where you are on a GPS map."
Aside from aiding students in dangerous situations, the ELERTS app also serves as a place for students to report disturbances or suspicious activity that may not pose an immediate threat.
"The night we came back from spring break there was an alarm going off. After a good amount of time passed without the alarm stopping, I decided it was time to use my handy dandy app," said first year Hanna Niner. "I just reported the problem and received a call saying the problem would be addressed."
While the ELERTS app is not intended to replace cell phones or the blue emergency towers around campus, it does consolidate many police services into one convenient place.
"It is easy to quickly report a problem and everything is really comprehensive and easy to navigate," Niner said.
The ELERTS app is free and is growing in popularity, not only at Trinity, but also at colleges across the state. The long-term goal is for everyone in the Trinity community to use the ELERTS system.
Leave a Comment