The women's basketball team returned from Colorado one SCAC championship richer after this weekend's victories over Colorado College and Southwestern University. The Tigers came into the weekend favored to win as the No. 1 seed. The championship secures Trinity's spot in the NCAA tournament.
Saturday's semifinal game versus Colorado saw Trinity maintain their early lead for a 76-70 win. Senior guard Micah Weaver scored 19 points, while first-year Julia Ackerman came off the bench to lead in assists. Senior post Mollie Hughes scored 18 and blocked 3 shots.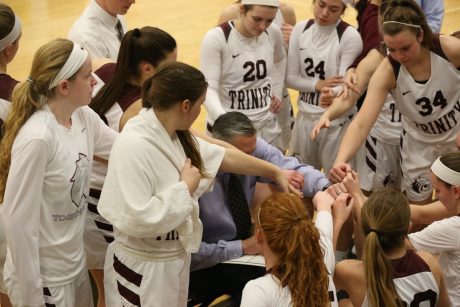 The final match against Southwestern presented more of a challenge, but the Tigers fought back from a 6-point deficit going into the last quarter. They won 80-74.
"One challenging factor was Southwestern and the runs that they went on in the championship game. They came to play and they hit us with their best shot; we were even down going into the fourth. It was tough to play from behind when they had the momentum and still come out with the win. But we did it and came out victorious," wrote Mallory Lancaster, first-year forward, in an email interview.
Weaver again led in points at 25, and was active in the paint with nine rebounds. Weaver, Hughes and sophomore forward Abby Holland were named to the all-tournament team, with Weaver earning top honors as the tournament MVP.
"We matched up against some really good teams that put up a great fight last weekend. Each team challenged us in different ways and we're more ready than ever going into the NCAA tournament this weekend," Weaver wrote in an email interview.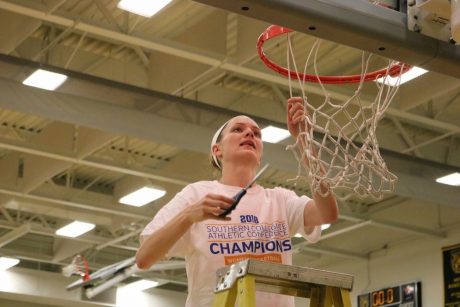 Cameron Hill, head coach, pointed out the challenges that come with being considered the best in the conference.
"The biggest challenge that we face every single season is being the team that everyone wants to beat. Every night, we have all the responsibility to be the best, and every other team gets to play loose and free because they have nothing to lose," Hill wrote in an email interview.
Joseph Shotland, assistant coach, agreed with Hill.
"It's hard going into every game knowing you're favored to win. Our girls handled that pressure really well. They never panicked when other teams made runs and stayed together. Ultimately that resulted in the win on Sunday," Shotland wrote in an email interview.
Shotland credits the team's success to their adaptability.
"The versatility on this team is pretty unique. We've been able to play a lot of different styles of basketball this year to win different types of matchups. It's a really important quality to have and we're really fortunate to have players that are skilled at a lot of different things and able to play different styles," Shotland wrote.
The team will enter NCAA tournament play this weekend. Their first matchup will be Friday evening against the University of Texas at Dallas (UTD).
"We really like our regional teams and think we match up well. There's a lot of incentive and familiarity with Whitman, UTD, and [East Texas Baptist University]. So we know what we have in front of us and are excited to go out and try to make a deep postseason run," Shotland wrote.
Whitman knocked the Tigers out of last year's tournament in the third round, but the Tigers are looking forward to this year's chance at the national championship.
"NCAA tournament expectations are always very simple, go play. Take each opportunity one game at a time, do your best, and leave it all on the floor. Every game has the chance to be the best game of the season, and that's exciting," Hill wrote.
Hughes expressed her excitement for the upcoming competitions.
"I expect to play some really good competitive teams. However, I expect to play our game and to keep growing as a team and to see even more new things come from us that have yet to be seen this season," Hughes wrote in an email interview.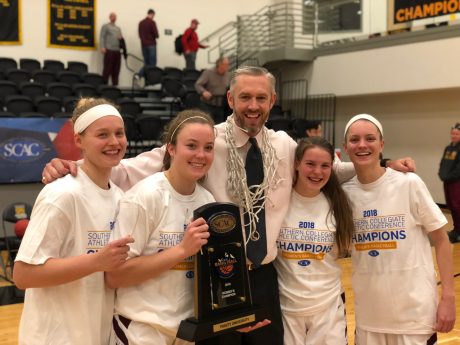 For seniors like Hughes and Weaver, every game could be their last. Lancaster cites this as her motivation for playing hard.
"Our motivation is the fact that we won't be able to play with these seniors again. We're not ready to let our time with them go yet. So we're playing every game so we can have one more game with them. We know the work they've put in and we're working our hardest to get them a championship for their hard work and what they've done in building this program," Lancaster wrote.
Weaver voiced her gratitude for her time as a Tiger.
"We want to make our season last as long as possible and I believe we will make a really great run," Weaver wrote. "I'm just thankful for the opportunity to still be playing the game I love with my teammates who are all so special to me. I'm soaking up every bit of this."
Friday's tournament game against UTD can be streamed at utdcomets.com.