Kayla's Kitchen: Chile rellenos and meat substitutes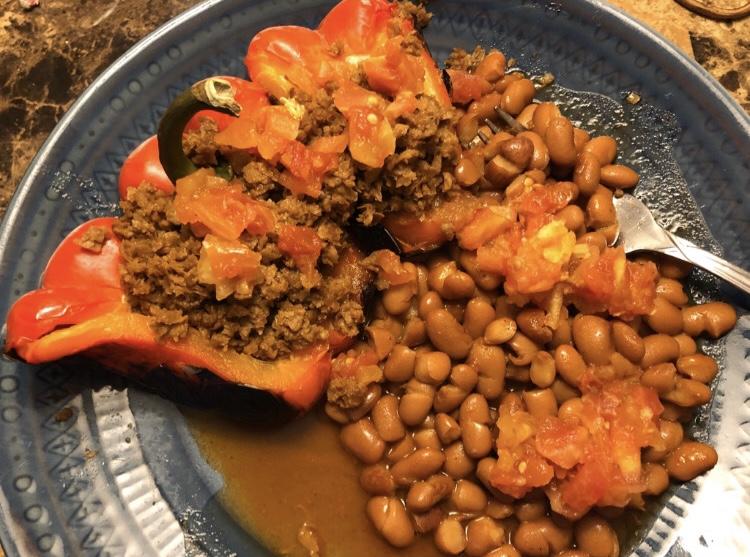 photo by Kayla Padilla
This week, we'll be talking about one of my favorite vegetarian meals of all time, chile rellenos. Despite what I said in my previous column, this recipe does include a ground beef substitute. Trust me, once all the spices are added, even everyday meat-eaters won't know the difference. What are chile rellenos, though? Well, they are fried poblano or bell peppers stuffed with (in our case) a meat substitute and a few other ingredients. Typically, chile rellenos are fried, but my family uses a different approach and heats them up on a skillet. They are usually accompanied by rice and beans, but learning how to make Mexican rice and frijoles (beans) are columns for another time. For now, let's focus on learning how to make chile rellenos.
First, what does it take to follow a recipe of any sort? Sure, you can buy all the ingredients and kitchenware you need, but if that's all you've got, you're missing something else: courage. Cooking takes courage, and cooking takes a lot of sucking, and I mean a lot. Great cooks become great by making mistakes and accepting their failed attempts, so if you follow my recipes and find your chile rellenos or fideo aren't edible, try, try again.
If you're feeling insecure, try making these recipes for you as opposed to putting yourself under the immense stress of cooking a big family meal. I've had my fair share of cooking disasters; trust me, it never gets any less embarrassing. Eventually, though, you reach a point where you can comfortably cook for others. I am by no means an expert cook; I'm still learning myself, but the first step to becoming a better cook is to be okay with failing.
With the pandemic at its worst, we all need a distraction or at least something that isn't as scary as all the news we are consuming. Since we're at home, cooking seemed like the perfect avenue for me to connect with our readers who, at the moment, feel very far away, so I hope you'll come on this journey with me as we get through this pandemic together, so let's get into it; let's make chile rellenos!
INGREDIENTS FOR 3 SERVINGS:
3 poblano or bell peppers
1 package of Morning Star meat crumbles
½ cup of water
1 tomato
1 serrano paper
¼ onion
1 ½ tbsp garlic powder
¾ can of tomato sauce
¾ tbsp salt
¾ tbsp pepper
¼ tbsp cumin powder
INSTRUCTIONS:
Toast your poblano peppers on the stovetop on both sides until they turn blackish.

Remove them from the heat and peel off the black skin on the pepper.

In a separate pot, pour your package of Morning Star meat crumbles and ½ cup of water. The good thing about meat substitutes is that you never have to worry about them being raw. So, let your meat crumbles heat up for around 10 minutes.

When the crumbles are nice and heated, drain the water.

Add ¾ can of tomato sauce.

Add ¾ tbsp salt, ¾ tbsp pepper and ¼ cumin powder.

Cut into pieces a tomato, serrano pepper and ¼ of an onion, then pour into the crumbles mixture.

Mix all the ingredients together and let cook for 5 more minutes.

Remove from heat and let cool.

Slice each of your peppers in half, and evenly distribute the meat crumbles into the pepper's shell.

Add toppings of your choice to your chile rellenos, for instance, cheese.

Let cool and serve.
Leave a Comment