Giuliani gets to the point of elections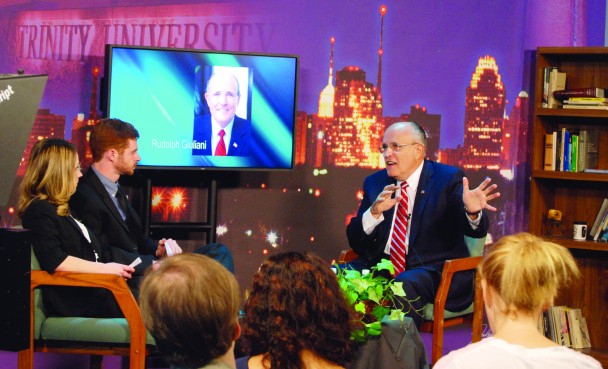 Rudolph Giuliani, former mayor of New York City from 1994 through 2001, visited Trinity University on Wednesday, April 4. Tiger TV held a forum with Giuliani at 4 p.m. in the Richardson Communications Center, and Giuliani gave a lecture titled "What the 2012 Elections Should be About" as part of the Trinity University Distinguished Lecture Series at 7:30 p.m. in Laurie Auditorium.
Giuliani began his lecture by pointing out that elections are very often not about what they really should be about. He cited the 2000 election between George W. Bush and Al Gore as the biggest example of this trend. Most of the debates in that election centered on education and somewhat on the economy, while there was very little discussion of foreign policy and almost nothing about Islamic fundamentalist terrorists.
Giuliani highlighted four focal points for the election of 2012. First, he believes this election should be about the economy. Republicans want to solve the budget deficit by reducing government spending, but Democrats want to increase taxation. Giuliani does not see how increasing taxation can help the economy. He feels that there has not been enough discussion about how candidates plan on growing the economy.
Giuliani also thinks that the United States needs to decrease its corporate tax rate to encourage corporations to do business in America. Without a high corporate tax rate, businesses will not feel patriotically obligated to keep their companies in America but will do so for the abundant opportunities available to them at home in the United States.
Secondly, Giuliani said that this election should closely examine energy. In order for the American economy to grow, Americans cannot remain stable with their country's sources of energy. He emphasized that the United States needs to make use of its coal and invest in hydroelectric and nuclear power. He also wants the government to stop being so hesitant about fracking and speed up the process. Giuliani said that although a dependence on wind and solar energy would be nice, a reliance on them is immature and just plain stupid. Energy is no longer an economic issue; it is an issue of national security. By getting oil and other resources from unstable foreign countries, the United States government is endangering the safety of the entire country.
Giuliani's next concern for the election of 2012 is health care. According to Giuliani, the reason the nation's deficit is out of control is not because of social security but because of the unpredictably high costs of health care. Giuliani said that the problem with health care is that there is no market for it. If there were a competitive health care market, there would be cheaper plans available to people.
Finally, Giuliani said that the 2012 election should focus on education. Giuliani stated that America has the best higher education system in the world, yet its K-12 program is failing. Giuliani does not support a government-monopolized education. He wants to put education choices in the hands of parents. Because school boards only see children as numbers and sources of revenue, they do not look out for what is best for the children. Parents, on the other hand, want the best for their children.
The Trinity University Distinguished Lecture Series is made possible by an endowment from Mr. and Mrs. Walter F. Brown of San Antonio.
Leave a Comment