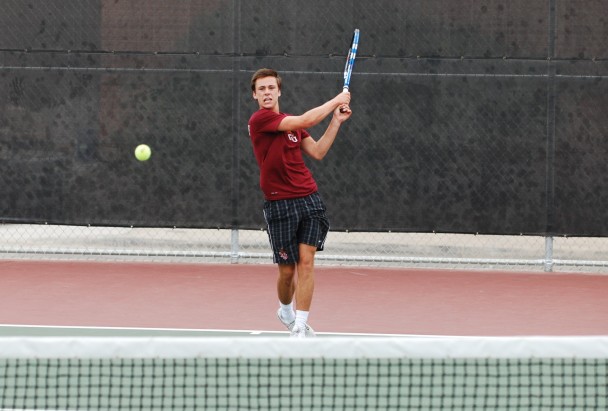 The men's tennis team had a busy past weekend, playing three matches in two days against McMurray University, St. Mary's University and Oklahoma Christian University.
"All in all, the weekend went pretty well," said head coach Russell McMindes. "We're still battling a bunch of injuries, so we didn't really have our full lineup for all matches. We're getting more experience for some of our guys, and everyone came out to play, so I was happy with that."
On Friday afternoon, the Tigers blanked McMurray 9-0.
"Everyone show
ed up to play, we won at every line convincingly, and it left no doubt that we were the better team," said senior Ben Carroll.
In doubles, first year
Jordan Mayer and sophomore Greg Haugen won in a narrow match in the No. 1 position, while first year Charlie Curtis and first year Aaron Skinner won at No. 2, and Carroll and senior Franklin Davis won at line three.
In singles play, junior Erick DelaFuente won at the No. 1 position, while Haugen won at No. 2 and Mayer won at No. 3. Curtis, Skinner and sophomore Arvind Fernando won to round out the four, five and six positions, respectively.
"We came out and played well," Fernando said. "We did a good job taking care of business."
The Tigers started out Saturday with a narrow 5-4 win over St. Mary's.
"It's tough anytime
that it's in town because you want to beat the in-town rivals," McMindes said. "Their team has really improved, and we didn't have our full team, so it was nice to survive and take out a win from that one."
Trinity won two of
the three doubles matches, as Curtis and Skinner won 8-3 at No. 2, and Carroll and DelaFuente won 8-6 at No. 3.
Curtis won in the No. 3 position in singles, followed by wins from Carroll at No. 5 and Fernando in line six.
"We should have beat them much easier because we're a high quality team, but it was good to come off with a win under pressure," Fernando said.
Later, Trinity lost 9-0 to Oklahoma Christian in their first shutout loss of the season.
"We got beat pretty bad," Carroll
said. "They're NAIA and all the players are international, so we had a tough go, but I think everybody got some good match experience in. It was a good building block match for conference in a couple weeks."
Curtis was the only player who didn't fall in straight sets, losing 7-5, 2-6 and 7-10 at No. 3 singles.
Trinity takes on Hardin-Simmons University at 10 a.m. this Saturday in their last home game of the season. The following weekend, Trinity will compete in the SCAC tournament.
"We've got one more match against Hardin-Simmons to get under our belt," McMindes said. We're trying to work hard on mental skills, mental toughness and high intensity drills, so we're really peaking at the right time and can go into conference and just do what we're capable of doing."