Jack White – "Blunderbuss" review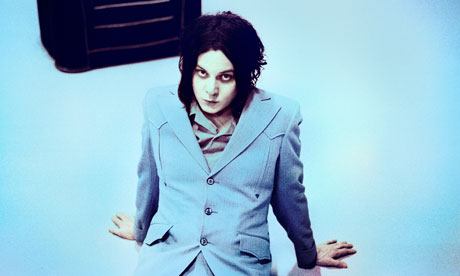 I'm a White Stripes fan in the casual sense of "Oh yeah I listen to the White Stripes occasionally when I feel like it but don't actually own any of their music but still want to listen to it a lot and greatly appreciate it, I'm just not very devoted." I know that one song by the Raconteurs that was pretty well-liked back in the tarnished days of my fifteenth year. And the Dead Weathers I am not at all familiar with.
This all goes to say that I am no Jack White expert. I can't give an in-depth or remotely accurate assessment on how his solo album, "Blunderbuss", compares to the other music he's made and I can't talk about his genius or his musings.
I can tell you, though, with the pure and untouched ears of a novice Jack White listener (despite my White Stripes leanings) that his solo album is amazing. It endures way beyond the initial listen, makes an impression and drags my heart into a gritty, delicious, soulful mess that is this album. This, people, is what good music sounds like.
I'm unable to slice and dice it up for you, and tell you what the exact elements of his music that make it so great. I can't say intelligent, insightful, rocker type things like, "Oh yeah man, I totally know, his guitar playing skills are like "¦ so expert and incredible they make this and this happen and you can see how he was influenced by that one dude who had a hook for a hand but played with an angel's heart."
OK, that is not exactly a great example of insightful or intelligent.
What I do know is that his vocals, lyrics and music are incredible and the album is a grabbing subtle breed between rock, blues and a few other nameless mutts that I can't quite put my finger upon because once again, I am not Lady Music Insight. She works for another paper called the Trinistonian that was thrown in the trash because it reported explicit controversial Greek hazing activities. Absolutely nothing like this paper or myself.
Back to the album. What I appreciate and really love about "Blunderbuss" is how incredibly dimensional it is. The lyrics are amazing and thoroughly enjoyable either in the subtle complications or the feelings that generate, and as I stated earlier, the music has a certain depth lent from the different detectable influences. And come on, can you really resist the voice bursting out of that eerie pale little man? No, no you cannot. All combined, the album is a killer. Meaning it slayed me. Guffaw! "Sixteen Saltines" is exactly the song I have been craving on a daily basis, and the music video is insanely awesome. "Hip (Eponymous) Poor Boy" would fit perfectly on the soundtrack to the indie film someone will one day make of my life, with it's energy and simple sweetness I'm sure Mr. "I-Make-The-Soundtrack" could fit it in any number of places. I could continue to talk about each song, as independently they stand strong and as an album they create all sorts of riotuous emotions.
But basically what I'm trying to say is listen to "Blunderbuss" and really dig into the phenomenal sounds because this album is a real shoulder shaker.
Score: 10/10
Leave a Comment