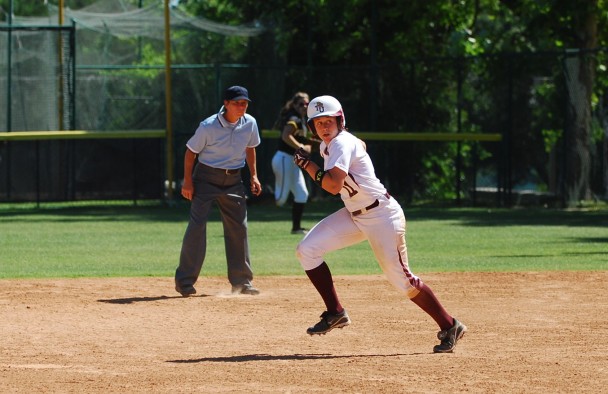 The Tiger softball team won both games against Southwestern University on Saturday, April 21, in their Southern Collegiate Athletic Conference doubleheader.
They were able to win 8-0 and 5-1, putting them in first place in the West Division.  Trinity's record, now 25-11, gives the Tigers a one game lead over the Pirates.
Junior Sydney Friday (13-6) earned a pair of complete-game victories, earning a one-hit shutout in game one.  Friday walked three and struck out three in the five-inning win.  In game two, Friday only allowed one run on six hits through seven innings of work.  In the finale Friday struck out five without walking a single batter.
Trinity dominated the game with a seven-run fifth inning, which ended the game with two runners on and two outs.  Sophomore Chrissy Armstrong had a 3-3 performance and led Trinity's 13-hit attack. Armstrong scored once, driving in two additional runs.  First years Caitlynn Dykes and first year Lauren Mercado were both 2-3 with one run and one RBI in the game.  Junior Lindsay Weyand was also able to score two runs.
"We always like playing Southwestern because, whether they know it or not, we think of them as our big conference rivals. There's always nerves involved going into a game, but as we've learned in previous years there's a difference in apprehension and anxiety versus nervous readiness," Weyand said.
In game two, Trinity scored four times in the first three innings to pull ahead early.  Another run in the fifth put the Tigers up 5-0,  and Southwestern scored its first run of the day with three hits in the sixth inning.  Dykes had two of Trinity's hits in game two, while Weyand added two more runs in the second game.  Sophomore Brooke Sanchez had a pair of RBIs in the day's finale.
"I wish I could have made some more momentum-building offensive plays in that last game," Weyand said. "There were a few moments in the outfield that I'd like to take mulligans for. But I'll just learn from them and not make the same mistakes next time."
On Sunday the Tiger softball team was able to win the SCAC West Division title with a split against Southwestern University, winning the opener 3-2, then losing 5-2 in the second game.
In the two games, sophomore Karen MacPherson tied Trinity's all-time record for hits, recording her 188th career hit. MacPherson is already Trinity's career leader in runs, steals, and at-bats.
"Honestly, until earlier this morning, I didn't even know that I had tied the record," MacPherson said. "It feels great to know that I accomplished that goal, and I am very proud of the progress I've made over my softball college career. However, I know that this accomplishment never would have happened without the training from my coaches, and the support of my teammates, so I am very grateful to them."
In  the  opening  game, Southwestern took the lead twice over Trinity, starting with a run in the third that broke the tied game.  The Tiger's quickly responded with a run in the bottom of the same inning.  Southwestern was able to score one run in the fifth inning but Trinity rallied and scored two runs, making the difference in the game.  Sydney Friday (14-6) earned her third complete-game victory of the weekend, giving up just two runs on 10 hits, and striking out two batters.  Friday was helped by the Tigers defense, which turned three double plays in the game.
"Coach Collins has frequently emphasized the importance that our defense has to our success this season. She says we will rise and fall with our defense and I thoroughly agree with her. Our offense is strong this year and we will push runs across the plate, so we must have a strong defense in return in order to win ballgames," MacPherson said.
Trinity scored three runs on just five hits, with the eventual game-winning run coming in on junior Megan Russell's RBIs single, which broke Trinity's career RBIs record.  MacPherson and Armstrong also drove in runs, while MacPherson, senior Rachel Garrett and Sanchez scored the three Tiger runs.  In the second game Weyand was 3-4 with one RBI, while MacPherson was 2-4 with a run scored.  Armstrong also picked up another RBI in the second game, while Garrett came in to score another run in the finale.
"We may be listed as the Western SCAC champs, but our goal is, and has been all season, to win the SCAC championship. So we won't be satisfied until we meet that goal," Weyand said.
Trinity has earned a first-round bye in this weekend's SCAC tournament.
"The girls might have gone about it the hard way but they competed in each game and I think it just speaks volumes of the team and the goals we've set throughout the season," said head coach Selena Collins. "I believe the team that's going to lose is the team that makes the first mistake on the defense.  If we take care of that we have every chance in the world to win the whole tournament."