Diversity rules class of 2016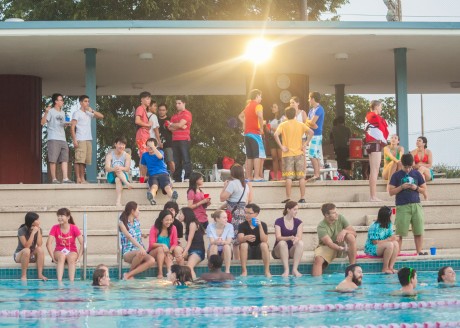 This fall, 641 new students will call Trinity University home according to an admissions highlights fact sheet distributed by the Office of Admissions and Financial Aid.
Of those 641 students, 615 are first-year students and 26 are transfers and they come from a variety of different states and countries. In fact, this year's first-year class represents a handful of new countries""Uzbekistan, Guinea, Moldova, Botswana, and Palestine, specifically""and one in every three students hails from a state that is not Texas.
These facts combined make the class of 2016 one of the most diverse in Trinity's history.
"This will be one of our""unquestionably one of our""most diverse classes if you look at the racial and ethnic makeup of our students," said Chris Ellertson, associate vice president for enrollment and student retention.
Ellertson believes that such diversity translates into enhanced classroom and community experiences.
"I think it brings a lot of value–and not only in the classroom–but to campus life and the community," Ellertson said. "I do feel that it enhances the classroom and allows [professors] to""it enriches, I hope, their teaching and instructions when you have students from different backgrounds in a classroom."
For Soi Inthavong, coordinator of diversity and intercultural relations, the diversity of this class is a testament to the university.
"We've really grown in one of our core values, which is diversity, and making sure that our students do feel comfortable when they're coming here, that resources are available, and the leadership that Dr. Ahlburg has provided for the university," Inthavong said. "He's definitely passionate about creating an environment that people will feel welcome at Trinity no matter where they come from, and I think that speaks volumes to his leadership and Trinity as a whole and the efforts we're making to provide those resources."
The staff of Residential Life also appreciates the diversity that the class of 2016 brings to Trinity.
"I just think it's so enriching to our community to bring in these different cultures, different values and beliefs, and we can just learn from all of them," said Wanda Olson, director of Residential Life.
In addition to being racially and ethnically diverse, students in Trinity's newest class performed very well during their high school careers.
They had an average 3.73 GPA on a 4.0 scale, and 73 percent of the students ranked in the top 20 percent of their high school class.
The incoming freshmen were also socially active in high school. Almost 70 percent performed community service, and nearly one in five students served as an officer in his/her student government.
While the students bring diversity and high-performing high school careers to Trinity, their actual class size is smaller than recent classes.
Trinity aims for 600 to 630 first years, and, by the time census day (the 12th day of class when class sizes are officially turned in and archived) rolls around, Ellertson predicts Trinity will have lost a half dozen first years and thus will record a first-year class size on the lower end of the spectrum.
However, this is not an isolated occurrence.
"I think it's indicative of the enrollment challenges and pressures that schools such as Trinity face," Ellertson said. "The demonstrated financial need of our students has increased significantly, and I think our families, compared to five years ago, have less ability, or even willingness, to pay, and I think that in an economic downturn, there's been more of a drift towards public schools, and it's become a lot more competitive among private institutions."
While admissions aims for numbers higher than what will be recorded this year, the smaller class alleviates pressure faced by Res Life when assigning rooms to incoming students.
"When it's a little bit smaller, we are able to consolidate them, to keep them all together, to build a community," Olson said.
International NSO began Aug. 14, and the rest of the class of 2016 moves in and begins NSO today.
View Comments (1)