Straight from the dog's mouth: Jurgens speaks about the first-year experience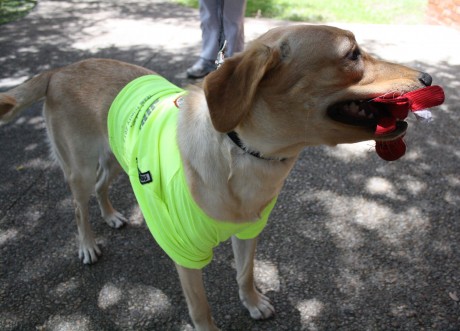 Class of 2016, welcome and woof.
I will be at Trinity until early October. Then, I'll go back to Lackland Air Force Base to train for work as a search dog. My time here has been great. I've walked and played with a variety of students, and I've successfully ignored so many more.
If you know me, you know I don't share my toy. I would like to share some advice, though.
Eat sensibly. I learned this one the hard way. So many temptations "" from banana peels to aluminum foil; so many upset stomachs. Better to eat in moderation and walk away from what you know isn't good for you.
Exercise regularly. I've accompanied students on many, many walks the last 11 months, and we always seem to return happy. I'm ready for a nap. They are ready to study.
Get plenty of rest. I work and play hard. I also sleep a lot "" like 16 hours a day. You only have two legs, so maybe you need half as much shut-eye.
Don't clutter your kennel. You need a lot less stuff than you think. Of course, pick up after yourself (and thank you, everyone who has picked up after me).
Practice smart health care. I eat right and get plenty of exercise (see above), plus the government provides common-sense preventatives that ultimately contain health care costs for me. (I wish I could gargle with warm water and salt. I wish I could sing while washing my paws.)
Show respect for others. I'm independent and headstrong, which is good in my line of work. I have also been a bully, testing people's patience and their grip on my leash. Turns out, when I respect that my handler, too, has places to go, we travel farther and have more fun.
Search. Seeking is my destiny.  At Trinity I have practiced finding things everywhere "" Central Receiving, the Laurie garage, meeting rooms in upstairs Coates, everywhere. As a student, you should ask questions and look for answers. Retrieving facts? That's easy. Finding solutions? That's hard.
Especially, find what you love. When I go to work, my handler will reward me for tasks well done with a toy. Not food. Not money. The toy might not seem like much to you, but it represents all good things to me. I know you'll need an occupation, too, when you graduate, but don't let that be your only reason for working hard. Love what you do here at Trinity. Find your own reward.
View Comments (1)