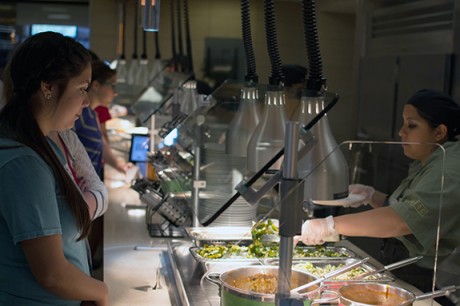 This year Aramark, along with Executive Chef Scott Stauffer, is bringing new changes to the menu and organization of Mabee in order to attract and retain more students utilizing the meal plan and minimize menu fatigue.
"Obviously, especially for Trinity since it's a mandatory three years being on the meal plan, the idea of menu fatigue is important," said Miguel Ardid, director of dining services. "So we plan on""with our marketing specialists""having some different events throughout the semester that will help a little bit with the menu fatigue""create some interest, have some fun and exciting things. Then the other part of the menu fatigue is actually the menu engineering. We have a team that will focus on engineering the menus on a four-week cycle, focused on keeping them fresh and ever-changing,"
These changes are important to Aramark as a business, but also to Aramark's relationship with the students and Trinity University as a whole. The new protocols and menu changes for this year are directed at making Mabee feel more like a place in the community rather than just a place to eat.
"That sense of community and that networking which will carry on for years and years in everyone's lives. I think that's something with the residential model that we are able to create: that sense of community. The dining hall now at night is vibrant. People are actually congregating here and spending time here. It's really nice to see that sense of community," Ardid said.
There is also a lot of excitement in the kitchen about the new foods and cooking techniques that will be present this year.
"The biggest exciting things really are location, communication and diversity of menu offerings," said Stauffer. "I am particularly excited about the way that we are going to offer and make more understandable to the guests where they can find specialty items such as gluten-free, people with allergies and nutritional requirements."
Along with new vegan, vegetarian and gluten-free items, there are going to be new techniques that will emphasize fresh ingredients and sustainability.
"A lot of the feedback we got from the students was that everything was coming either out of a can or a box. There is a huge focus, and has been, and we have made a transition to cooking from scratch. You will see it in just about every station. It is already evident, but the way we are going to present it to the student body will show them the obvious freshness of the food. A lot of ingredients will be coming out of our garden. A lot of our vendors are using local farms and local products. It's very sustainable," Stauffer said.
Aramark is making serious investments in Mabee this year, but the changes are aimed at the future as well.
"And now we've got one year under our belt and we are looking to improve it even more," Ardid said. "We are looking forward to what's on the horizon for next year."