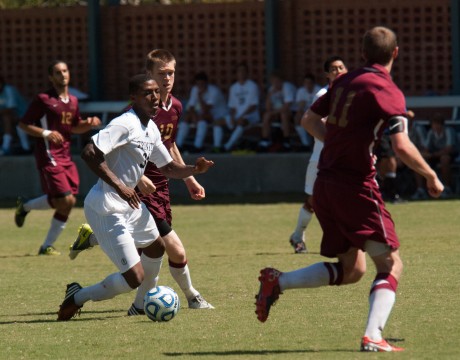 With a lot of sweat, a little bit of blood and definitely no tears, the Trinity soccer team went 3-0 over their home opening weekend defeating University of Texas at Tyler, Mississippi College and Willamette University.
"We had three games and three wins so I'd say that it was a successful weekend. Overall everyone on the team should be pleased with how we played," said junior defender Jeffrey Hayes and SCAC defensive player of the week.
Friday night was a game full of payback for the Tigers against the team that ended their playoff run last year.
"Obviously it was a physiologically significant match. Texas-Tyler eliminated us from the tournament last year, at home no less. The boys worked really hard with that in mind," said assistant coach Edward Cartee. "They wanted it bad and it showed in the way they prepared during preseason. There was really a sense of urgency and almost desperation in the way the returning players trained. They were desperate to improve and set right what had gone wrong the previous year. I'm proud of them for the effort they showed."
The men were able to accomplish what they wanted by defeating the team 4-1, supported by a very large crowd. Goals were made by first-year midfielder Tom Carwile, junior forward Brian Hines, sophomore midfielder Simon Uribe and Hayes. Assists were made by senior midfielder Nima Naderi and junior forward Yuri Ribiero.
"We knew we had a lot to play for and we came out  and took care of business," Hines said. "They were a really tough team but we controlled most of the game but couldn't get anything in the back of the net. Carwile put in a header goal with less than a minute left in the first half, so to me that was the moment where we really got the momentum that took us into the second half."
Sunday morning turned out another victory shutting out Mississipi College 4-0. Players to score consisted of senior defender Luke Tibbitts, Hayes and two for Ribiero with assists from senior defender Kyle Porter, first-year midfielder Murray Fraser and Hines.
"We knew they were also going to be a good team. They had a few talented offensive players we were conscious of. We really tried to shut them down and the end result was 4-0 so that's a pretty good day," Hayes said.
In the extreme heat of Monday afternoon the team ended with a tough overtime 3-2 win against Willamette. Hines scored the first goal in the first half of the game with an assist from junior midfielder Darren McAfee. Willamette first scored penalty kick, then a goal to lead the game with 12 minutes left. Sophomore forward Roberto Camargo quickly answered back with a goal assisted by Hines 33 seconds later. The game then went into sudden death overtime where Trinity won with a goal from Hines assisted by Camargo.
"This game had a lot of game changing moments but we managed to stay calm and collected. We easily could have given up but this game, to me, was the biggest test of the character of our team thus far this season," Hines said. "The leaders on the team kept us together instead of us trying to play as individuals like a lot of teams do when they get in those tough situations where you are down a goal and the clock is running down. We were confident that we would win so we just focused on playing to our strengths and getting balls in the back of the net."
Even with three wins under their belt the team looks to make adjustments before their next games 7:30 today and  7:30 tomorrow at home against University of Texas at Dallas and Hardin-Simmons University.
"One of the things our team has the goal of this year is dividing the game up into segments, "" six 15 "" minute segments. Our objective is to win each of those six segments, and we don't think we did that in any of the three games this weekend. The best we did was win five out of the six. One of our goals this next weekend is to see if we can win six out of six," Cartee said. "With that said, the upcoming games should be good competition. It's teams from our region which matter a lot. We have every intention of winning conference but if you don't win conference then the next ticket to the NCAA tournament is through the region so we need to lock that up. We played three games in four days and now we only have three days to prepare for two more games; luckily it's at home. Physically its quite a burden to ask the players to do this early in the year. Hopefully we have the legs underneath us to carry us through the two games and put together a complete match."