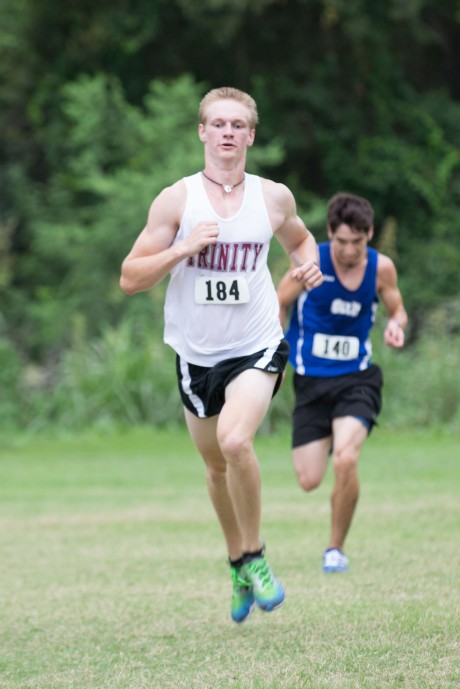 This past Friday, the Trinity men's and women's cross-country teams hosted the first annual Alamo City Opener at Olmos Basin Park, competing against their crosstown rival, University of the Incarnate Word, a Division II school. Trinity senior Sal Perdomo and junior Vanessa Moreno won the individual titles for their respective races.
"The teams did well for this time of season," said assistant coach Emily Daum in an email. "Two overall individual titles is nothing to glance over, especially against Incarnate Word. Another positive was the small time difference from our first to our fifth runners."
The Trinity men beat Incarnate Word with a score of 21 to 35. Perdomo won the individual title for the men's race, finishing the 6K course in 19:58. Graduate Robert Edmonds from Trinity came in second with a time of 20:03.
"I was very happy with how everyone performed," Perdomo said. "Our goal was to win, and we accomplished our goal."
The men placed four runners in the top five spots. Senior Francisco Escobedo finished with a time of 20:15, while junior Gerardo Hernandez finished in 20:22 and first year Taylor Piske finished in 20:36.
"We did a very good job of working together as a team," Perdomo said. "We all took the lead at one point and pushed the pace. Everyone raced really smart and hard. Cross country is a team sport and everyone represented that quality of the sport."
The Trinity women came in second to Incarnate Word with a final score of 35 to Incarnate Word's 24. Still, Moreno won the individual title for the women, finishing the 4K course in 15:09.
"The girls had a strong performance considering two of our great competitors, who have competed in nationals both years, were out for the race," Moreno said. "Overall, we had two girls in the top five, and four girls in the top ten, so that shows how close we came together and I think that's really important."
Irma Garza from Incarnate Word came in 12 seconds behind Moreno for second place.
Trinity sophomore Jessica Pagano placed fourth and junior Jackie Newell placed seventh, while sophomores Michelle Oberndorf and Nicola Hill, in her debut cross-country race, placed 10th and 16th, respectively.
"We have a lot of depth and that's what's going to help us score in meets," Moreno said. "It's not just the few girls just in the top, it's really what every girl does."
Up next for the cross country squad is the Rice Invitational in Houston, TX on Sept. 14. The women will run at 6:15 p.m. and the men will run at 6:45 p.m.
"We won't finish as high as a team this next meet since we'll be going against teams like Rice and Texas A&M," said Daum. "But I'm looking forward to seeing some drops in times since we'll be doing the same race distances as this last meet."