Greek retreat provides leadership training for new members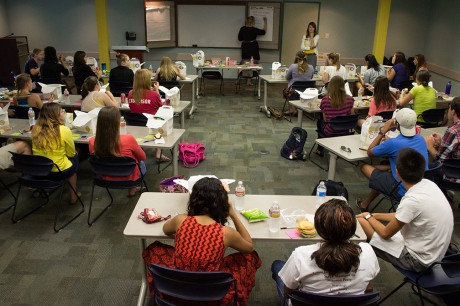 The next generation of Greek leadership will take part in the first annual Greek U New Active Retreat on Sept. 28 and 29.
Designed specifically for members of the New Active Class of 2012, the endeavor is the brainchild of Jamie Thompson, director of Campus and Community Involvement, and Briana McGlamory, coordinator for fraternity and sorority life.
The retreat is funded through the generosity of the Association of Student Representatives (ASR), who , according to President Joe Moore, allocated $2,000 for the event.
"It will serve as a tunnel to develop Greek leaders in the community. Future leaders need to reflect on what it means to be Greek and be sure that they are responsible," Thompson said.
Each fraternity and sorority has been asked to nominate two to three members to participate. The four suspended Greek organizations will be allowed to register when the deadline, Sept. 14, passes and if there is space available at that time.
Participants will depart campus at 3 p.m. on Friday, Sept. 28 and return to campus around 3:30 p.m. on Saturday, Sept. 29. Partakers will be staying at La Casa, a retreat and community house located in the heart of San Antonio.
When asked about the short duration of the retreat, Thompson justified the decision by pointing to the infancy of the event and her desire for it to become an annual occurrence.
"Initially we want to keep it quick," Thompson said, "but there is capacity for it to grow."
In an effort to create an improved Greek culture on campus, the Greek U New Active Retreat prompts members to foster relationships across club boundaries and to develop more steadfast leaders.
There is a possibility that members of the Greek community who wish to become part of Greek Council in the future must attend the retreat.
Jackson Bush, a sophomore and member of Omega Phi fraternity, agreed with that idea.
"I believe it's fair because it gives students insight into what they will be doing in the future if they choose to be on Greek Council," Bush said. "It will give them a better picture of what they are getting themselves into."
In addition to discussion amongst themselves and staff facilitators, Greeks can look forward to a service project with Greek alumni from Trinity. Following the project will be a complimentary dinner in the King William District and group conversation about community building back at La Casa.
Reverend Stephen Nickle, university chaplain at Trinity for the past thirteen years, will serve as one of the staff facilitators at the retreat.
"I am excited to see where this goes," Nickle said, admitting that his position on campus could bring a unique perspective to the evening's discussion.
Nickle believes that leadership can be thought of in a vocational sense and encourages Greek students to view their individual passions in relation to other young adults.
"Students must ask themselves what they are passionate about and how others respond to that passion," said Nickle.
Thompson, who has organized a similar event during her time at the University of California at Berkeley, is confident that the Greek U New Active Retreat will revitalize the Greek population at Trinity in a time when morale has been dampened by last spring's events.
Prior to the retreat, Thompson is beginning a regular dining series for Greeks entitled "Monthly Leadership N' Lunch." The topic of each lunch will vary, but conversation around campus and community issues is expected. This initiative for the Greek community will become a monthly opportunity to continue dialogue.
Leave a Comment