Outdoor pool provides relief from the summer heat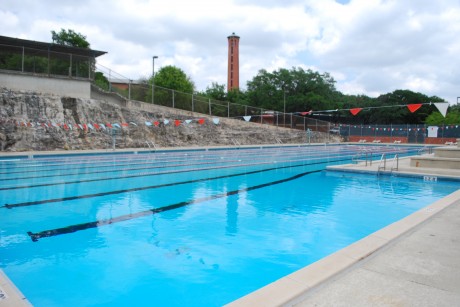 With temperatures in San Antonio consistently in the 90s, many students, faculty and local community members find themselves searching for a way to escape the imposing heat. Individuals need to look no further than the outdoor pool.
Although the outdoor pool closes Monday Oct. 1, it has been extremely user-friendly, students say.
Vanessa Moreno, a junior and member of the women's cross country team, is appreciative of the facility and her ability to utilize it for training.
"The outdoor pool hours seem pretty flexible," Moreno said. "That is personally great for working out purposes."
Pool hours are posted daily on a white board in the window of the outdoor pool office.
Elizabeth Gilbert, a sophomore and lifeguard at the outdoor pool, has been working there since last September and encourages everyone to come by.
"There are open swim times in the morning, afternoon and evening. It's free for Trinity students and professors. It also has lanes for lap swim and a deeper area for treading, aqua jogging or just relaxing," Gilbert explains.
While extremely similar to past years, a few changes have been made to the outdoor pool. A new feature has been added which sprays water over the lanes for cooling purposes.
Dan Murphy, aquatics director at Trinity, says the feature was installed during the summer and has made quite a difference in reducing water temperature.
"Last year," Murphy said, "the water was in the 90 degree range. We have brought it down to the mid-80s."
Gilbert also notices the change in temperature and believes it has made a difference in the number of swimmers. Last year, the outdoor pool was shut down multiple times due to elevated temperatures.
Any student wishing to utilize the outdoor pool must present their Tiger Card at the entrance.
Leave a Comment