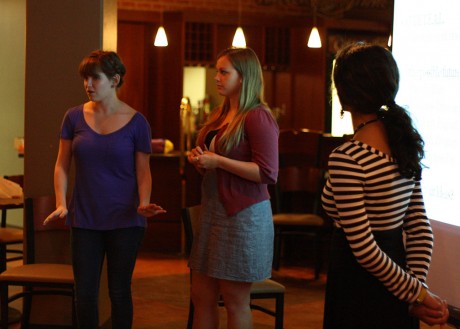 The E3 Initiative, soon to be one of Trinity University's newest organizations, is meant to be a resource for students who want to do more in their community and don't know where to start.
"E3 stands for Educate, Embolden and Engage, and the whole idea is how so many of us are passionate about various issues or causes, whether it's education in inner-city schools or human rights around the world, but then few of us actively do things to change the outcome," said Avantika Krishna, co-director and co-founder of E3. "The idea is to create an inclusive space on campus so that everyone can have their ideas and feel comfortable enough to actively change things in their communities. We hope to help individuals feel empowered to think about change within the campus, community and otherwise with various causes they feel passionate about."
Although E3 will be an entity of its own, it will mostly act as a liaison for groups interested in particular causes and needing to form a productive plan.
"Jamie Thompson mentioned to me that there is a problem with over-programming at Trinity, and we want to work with organizations to connect them with causes," said Anna Van Buskirk, co-Director and co-Founder of E3. "In a way, E3 is a place for people to say "˜this is my passion' and for them to bring that into fruition. We want to let them learn more about it, educate, find the tools and resources they need and through E3 find a way to engage with the community."
According to Jamie Thompson, Campus and Community Involvement director, this will be on of the major challenges facing E3.
"I like the idea of an organization serving as a clearinghouse for social justice issues that speak to students' interests and passions. There are several groups on campus that address social justice issues," Thompson said. "The challenge for E3 will be to collaborate with these others groups in ways that best serve students. This means not over-programming, listening to the student voice, aligning its resources with the needs of the community and using ASR as a sounding board and funding resource."
As well as providing a path for a slew of different causes, E3 is debuting with an event that will specifically focus on the prevention of sexual assault.
"This summer I read an article called "˜Her Campus' which my friend showed me on Facebook, and it was about a woman who survived a drug-assisted sexual assault. I was really interested in that article, so I checked out the woman who wrote the story and she is actually the founder and president of Pretty Feisty. It's a company dedicated to empowering women through learning about safe dating and sexual assault awareness, and we are actually bringing her to campus," Van Buskirk said. "I feel like it's something that's going to encourage students and instill in them the importance of speaking out, standing up and supporting other students."
This keynote will involve many different on-campus clubs and be part of a much larger event that will span into the San Antonio community as well.
"The speaker will be part of a big event called Code TEAL. Teal is the color of sexual assault awareness, and for our purposes stands for talk, educate, advocate and listen. It will be a collaborative event between the E3 initiative and Alpha Chi sorority, and we are also partnering with other groups such as SAGE, the SDA and the Trinity Progressives," said Krishna. "We are going to kick it off with a big publicity event to increase education and knowledge about the issue itself and then follow it up with the speaker from Pretty Fiesty and then end it with a self-defense workshop, which Alpha Chi usually puts on in the fall."
Code TEAL will be taking place on campus this October and will feature Natalie Ehmka of Pretty Feisty as a keynote speaker in Laurie Auditorium. The date has not yet been determined. The E3 Initiative is still in the petitioning process of gaining active organizational status on campus, but many students and administrators are proud of the student initiative to create such an organization.
"I think E3 is reflective of how students want to spend their time and energy: helping others and making a difference," Thompson said. "Whether its through awareness campaigns, activism, service, speakers or events, students want to make an impact."