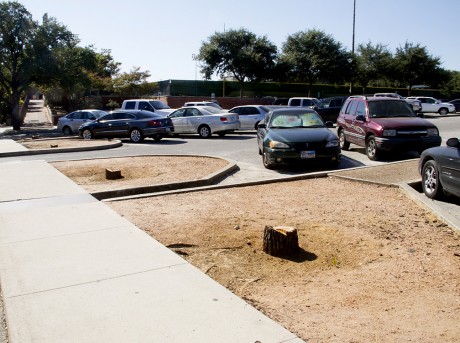 As students came back to campus, many people began to wonder where the trees in the parking lot in front of Mabee dining hall went. Although the answer may seem simple, the answer can be found at its roots, over 40 years ago.
"Somewhere around 1965 Murchison was constructed and that parking lot south of Murchison, which is Lot P, and then Lot S, which is the lot in front of Mabee dining hall. Murchison had a lot of fill soil around it, so the soil was broken and loose," said Mike Schweitzer, assistant director of facility services. "They planted the same size trees in both locations. The only problem is that the parking lot in front of Mabee is a solid block of limestone, no cracks or anything. Trinity was a rock quarry. He had one of his employees jackhammer the holes for those trees [in front of Mabee]."
Although planted with good intentions, the trees in Lot S never flourished as well as those planted at the same time in front of Murchison. According to Schweitzer, the limestone beneath the soil along with the lack of water was a deadly combination for the ill-placed live oaks.
"Even with water, it wasn't going to make a difference because there was no place for the roots to go. It was like planting something in a pot and needing to move it to a larger pot to grow after a certain period of time, but the only way you could have gotten a bigger pot over there was with a stick of dynamite," Schweitzer said.
After years of deterioration, the trees began to reflect negatively on the campus and even posed a safety hazard as branches began to fall. A decision had to be made.
"First impressions are a big deal here, as you may know. Everyone that was coming in, the first thing they saw were the dead and dying trees. It became the lesser of two evils to remove those trees. No matter what we did they were not going to get any better. They really went farther downhill last year during the drought. You couple that with the two or three inches of asphalt on solid limestone, and there is no water that can get to those trees," Schweitzer said.
At this point in time there are no intentions of replacing the trees with any sort of shrubbery.