Campus embraces chairs provided by urban studies department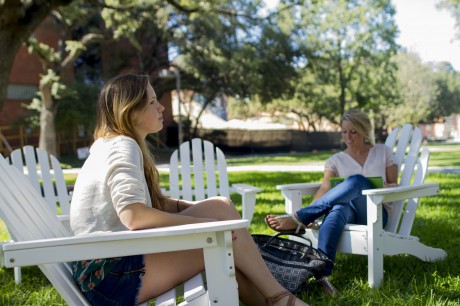 White chairs provided and endorsed by the urban studies department have transformed the outdoors of Trinity University by providing a place for students, faculty and administration to relax outside.
Unlike many of the renovations around Trinity, the addition of the white chairs was done mostly by Trinity students, specifically students from the urban studies department.
"Within the urban studies curriculum, there is a concentration in urban design. We had some fantastic students who graduated last year within that concentration, and they had this great awareness of physical space and what works for us and what doesn't," said Christine Drennon, assistant professor and director of the urban studies program. "They were given $2,000 to do what they wanted and make some improvement."
After finding a consensus with many of the students, the urban studies group decided to purchase outside lawn furniture.
"It seemed like everyone wanted to be outside, but it wasn't comfortable. There was no place to be. So, they bought the first eight [white chairs] this spring, and it was just this instant success. People flocked to them, and it became a gathering place," Drennon said.
Ben Conway, the last un-graduated student left of the original group, saw the chairs as a much-needed improvement to the upper campus outdoor space.
"I am just really really pleased with what [the white chairs] have done. They have just completely changed the dynamic of this quad, and I think that this is something really simple," Conway said. "We polled students and had a trial period for the chairs during which we moved them around campus to different areas, low density and high density. This [the quad near the fountain] has obviously been the most successful. We have the most chairs here, and then we also have some others by the swimming pool. For a while we had some in front of Northrup, but this has definitely been the most successful area."
Many students agree that the addition of outdoor lawn furniture has been a huge success.
"I love the white chairs. It's a great place to hang out with my friends and meet up between classes," said sophomore Andrew DuBois.
Although the chairs make a great place to meet and hang out, the greater purpose of them is to increase the sense that students live in an urban area and can interact positively with their surroundings.
"I think they [the chairs] have really created a space here that's conducive towards community involvement and towards students talking to one another," Conway said. "We really want people to get a better understanding of what urban studies is and how it is applicable to everyone because all students at this school, based on the fact that we live in San Antonio and really within the inner-city, are urbanites."
Leave a Comment