Cross country has strong showing at Rice invitational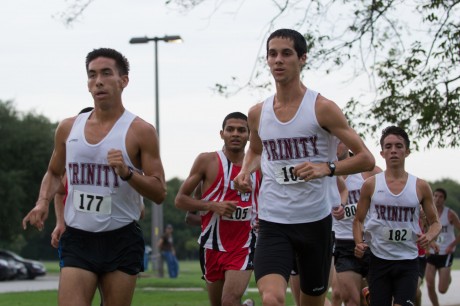 Last Friday night, the Trinity men's and women's cross-country teams recorded top-notch performances against Division I and Division II opponents at the Rice Invitational.
"Both sides ran very well, and it prepared us very well for the rest of the season," said head coach Derick Lawrence. "Overall it was a great meet, great trip; everyone enjoyed the competition, and it was one of those meets that we will always put on our schedule."
Although Trinity was the only Division III team in the competition, the Trinity men's team finished eighth, ahead of both Texas State and Texas A&M-Kingsville. Senior Sal Perdomo finished first for the Tigers, placing 36th overall in the competition. He was followed closely by his teammate, senior Francisco Escobedo.
"It's a great starting point," said senior Robert Edmonds. "This is the first race we've actually gotten to compare ourselves to more than just a few schools, and it gives us a chance to see how we're going to do in a pressure situation. Going forward I find this is a good indication of our really coming together and showing up when it counts."
Other top finishers for Trinity included Edmonds, senior Mark Greene, junior Gerardo Hernandez, first year Taylor Piske and first year Chris Soto.
"A lot of our young runners have stepped up and are taking to the challenge of competing with our veteran runners," Edmonds said. "This is good to see because I think these young guys are going to solve our problems later in the season when we're dealing with injuries and illnesses."
The women's team finished seventh overall, amidst a field which included five teams ranked in the top 12 in the South Region for Division I. Junior Vanessa Moreno finished first for the Tigers, coming in 13th in the competition.
"Overall we have a lot of depth and are making moves that are closing the time gap between each runner," said sophomore Jessica Needle. "I know everyone's working really hard and putting in the extra work to prepare for the pre-nationals meet in October."
Junior Maddie Murphy and sophomore Jessica Pagano finished in the top 35 individually. Rounding out the top finishes for Trinity were junior Jackie Newell, sophomore Michelle Oberndorf, junior Jessie Dean and sophomore Nicola Hill.
"It's always nice to race against the best schools in the state and the better schools in the nation," Lawrence said. "We definitely like that challenge and view that as a great opportunity to see where we're at, and it also gives us a chance to find out what we still need to work on."
Trinity competes next on Saturday, Sept. 29 in Austin at the Grass Routes Run Festival. The women run at 10:35 a.m., and the men run at 11 a.m.
"At this next meet, there will be a lot of similar competition and a lot of the same teams," Edmonds said. "Now that we know we can hang with them, I want to see which ones we can beat."
Leave a Comment