New TVs arrive in residence hall lounges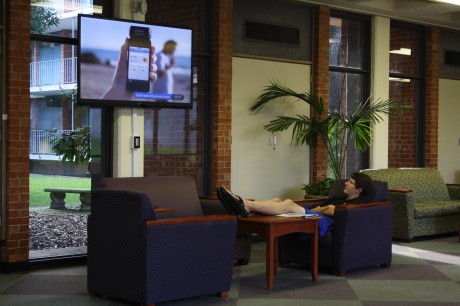 Two new television monitors have been installed in the North/South Foyer, and work has already begun to set up a larger screen in Heidi Lounge.
The AT&T Center for Learning and Technology is responsible for all audio-visual needs at Trinity and is accountable for the additions to North/South and Heidi.
Director of CLT, Robert Chapman, says that the department is in charge of far more than activities confined to the first floor of the library.
CLT is behind technology in classrooms, sound systems in the soccer and football fields, the cable in residence halls and more.
The decision to install new screens was made long before the semester began.
"A general walk-through was conducted in the summer by the administration and Facilities Services. They saw a need in North/South Foyer and Heidi Lounge," Chapman said.
Spaces that are used frequently by students and faculty are prime spots for new fixtures, according to Chapman.
Most equipment is updated regularly, depending on resources and other factors.
While appreciative of the gesture, the addition has raised concern among students, who primarily use the spaces as study locations.
Junior Molly McCarthy uses North/South Foyer regularly and expressed doubt regarding need.
"I'm not sure if they will be used enough to be cost-effective. I think money could have been allocated better," McCarthy said.
McCarthy was not alone in her skepticism. Fellow junior Megan Kruse believes the televisions would be better suited for a different space, in an area with a more conversational atmosphere.
"I don't think they're worth it," Kruse said. "This is not really a hang-out type of place. People study here."
When asked about concerns regarding frequency of use, Chapman was hopeful about student response but said that the screens could potentially move to a different location.
"Ideally, most of these technologies are fairly adaptive," said Chapman, who mentioned a monitoring system that operates on each screen to monitor usage.
While the screens can be certainly utilized for viewing, Chapman wanted to remind students that the televisions have capabilities beyond that. Each screen has updated panels and input screens, along with a connection for HDMI and VGA monitor cables.
CLT is always open to feedback from the Trinity community and will continue to conduct needs assessments for various campus locations.
Leave a Comment