West Nile Virus invades San Antonio, Trinity increases precautionary measures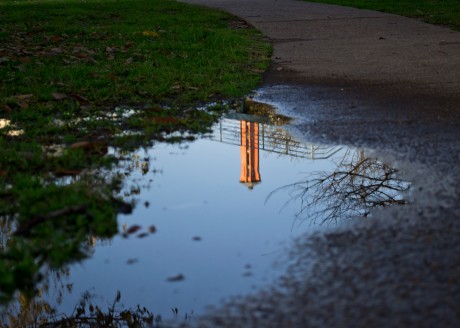 After an outbreak in Texas, West Nile Virus has finally made its way into Bexar county these past few days, even claiming a few lives. However, with the proper precautions, Trinity students are protected.
After first appearing in Uganda in the 1930s and finally in the United States in 1999, WNV has continued to alarm citizens in the past decade. According to Robert Blystone, biology professor, Texas is at the forefront of this prevalent virus.
"It's a virus. It can, in a small portion of people, produce encephalitis. Encephalitis can be lethal," Blystone said. "In the San Antonio area, much of the effort to control West Nile has involved the horses at Fort Sam Houston, which is only a few miles away. There are several military places where there are pools of water that have horses, and we don't necessarily have crows around here, but we do have grackles, which can also serve as a reservoir for West Nile Virus."
After its apparent presence in Bexar county, Trinity began making accommodations to prevent WNV on campus.
Health Services monitors the local situation through the San Antonio Metropolitan Health District and the State of Texas Department of Health Services, who send regular updates.
"Before students arrived on campus, we published information about WNV and how to protect from mosquito bites in the parents' newsletter and in the class newsletters and sent fliers to the residence halls when students arrived," said Jackie Bevilacqua, coordinator of Health Services. "The University Crisis Management Team has published FAQs on the university website. I have also asked the bookstore and the P.O.D. to stock mosquito repellent so students have easy access on campus."
Health Services is focusing most of its efforts on awareness and preventing students from possible infection through education about the disease. Because WNV does not spread from person to person, normal protocols to prevent sickness such as hand-washing are not enough.
"Drain standing water to prevent mosquito breeding, use mosquito repellent with DEET to prevent bites; dress appropriately wearing long sleeves and pants to protect from mosquito bites; avoid being outside at dusk and dawn when mosquitoes are most active, although some mosquitoes feed all day," Bevilacqua said. "Additionally, don't leave windows without screens or doors open so mosquitoes can gain access to their rooms."
As well as protecting themselves and the students from bites, Facilities Services is trying to inhibit mosquito populations on campus.
"What Facilities Services has done is gone through campus looking for any standing water. The areas that can be eliminated have been, such as taking out flowers in pots and things like that," said Harold Lovejoy, director of environmental and health safety and emergency management coordinator. "Areas that can't be eliminated, and up until the recent rain we really didn't have to worry about a lot of standing water, but they make an insecticide that looks like a donut and they put those in areas. Around the new football field there is drainage below ground, but up until the recent rain it's been dry. Anytime the sprinklers run, we have to worry about standing water, so they put those donuts down in there as an insecticide that kills the mosquito eggs."
Although it is always a good idea to protect from bites by using insect repellent and not being outside from dusk through dawn, the general student population can remain at ease since WNV is often not lethal in young adults.
"The WNV is systematic. Symptoms of the WNV tend to go for people 60 years old and older or those with compromised immune systems. To the best of my knowledge, all of the deaths related to WNV have been of an older age category."
WNV has received a lot of publicity since this year's outbreak, but it may soon be a thing of the past, especially as mosquito populations decrease with the cooler temperatures.
"It reminds me of the Africanized bees and when they started coming through the United States," Blystone said. "Before they really got to be everywhere, everyone was all a-twitter about it. Now, finally, they are everywhere; no one talks about it anymore. I don't know what that means, but in some ways I feel that West Niles is the same way. It's in the public eye, and we get excited by it, but, with time, we accommodate."
View Comments (3)