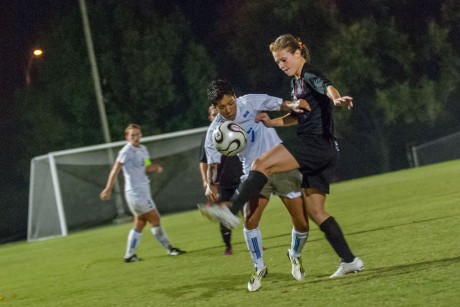 In the home opener of the 2012 season, the Trinity women's soccer team defeated Our Lady of the Lake University 3-0 on Friday night, earning their third straight shutout of the season.
"I think we came out really strong in the first half and once we got those first two goals we had a lot of momentum," said sophomore forward Stephanie Segovia. "Overall it was a good performance, but we are capable of much better."
Trinity dominated from the beginning. In the 22nd minute, first-year midfielder Emily Donnan scored the first goal. Only one minute and 47 seconds later, Segovia scored the Tigers' second goal, with assists from sophomore mid-fielder Kelsey Falcone and senior mid-fielder Katy Lipscomb.
"I think we attacked really well during our 1v1s," Donnan said in an email. "Our wide players did a great job of taking people on and our defense stayed solid."
In the second half, junior forward Shelby Guenthardt scored Trinity's third goal with only 10 minutes left to play, with an assist from Falcone.
"The first half was our best performance yet," Falcone said in an email. "We slowed down in the second half, but we just need to finish our chances. We did a great job possessing the ball and moving it around the field to create space."
Trinity's goalkeepers, senior Katie Garrett, sophomore Devan Osegueda and sophomore Lauren Goldberg, all contributed to the shutout, while Garrett recorded two saves.
Overall, the Tigers recorded 30 shots compared with OLLU's two, including a 17-0 advantage in the second half. In total, the Tigers had 15 shots on goal.
"We all came out and played really well as a team," Falcone said. "Collectively, a lot of things we had been practicing finally translated into our play. At this point in the season we need to establish consistency. I think we can do this by putting away our opportunities quickly."
The women are now 4-0-1 on the season and have only allowed one goal this year.
Trinity plays again at 4 p.m. next Friday at home against the University of Dallas in its first Southern Collegiate Athletic Conference game.
"We played University of Dallas last year, and it went into overtime," Segovia said. "We played them at their home last year, so that affected us a lot. The biggest challenge is going to be composure and coming into the game physically and mentally prepared and not letting outside factors get in the way."