Renovated Skyline Room scheduled to open in October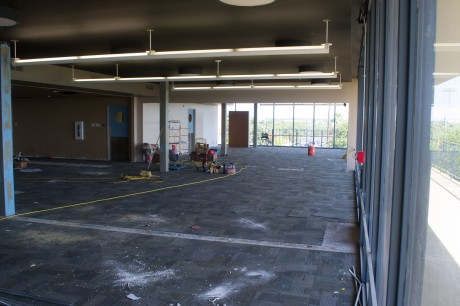 The Tiger's Den, located beneath the Fiesta Room, has long served as a spot for campus groups to hold events where alcohol will be served. With the new renovations to the Skyline Room, the Tiger's Den won't be the only space on campus with a liquor license.
The Skyline Room, a long-time staple of dining at Trinity, will be reopening its closed doors sometime soon with improvements to its facilities and cuisine.
The restaurant, known most for its impressive view of the San Antonio downtown area, has been closed for renovations since the beginning of this semester. At this point, the changes being made to the restaurant were largely unknown to students. Obvious questions concerned changes in menu, hours of operation and general availability.
Miguel Ardid, director of dining services, provided insight into the changes.
"Times [of operation] will be fairly consistent with what we've seen in the past. It depends on traffic. If there's a big demand for it to be open at 11, we might be open at 11 or to stay open until two, we might do that also."
Ardid noted the that the facility's menu will change as well.
"We're also looking at doing a menu that will be a little bit more limited as far as the buffet offerings, and focusing more on another menu that will be more bistro style. So, we'll actually have a menu on top of what was just the buffet before. And, again, depending on what the consumer demand is, we may have to change that [as well]."
The Skyline will also be involved in special events on Trinity's campus, as well as student programming, to be organized by the specific departments involved.
When asked about any specific date of the Skyline's opening, Ardid noted that matters are still tentative in that regard.
"[The time] is not firm yet, but early October is what we're hoping," Ardid said.
Leave a Comment