Student survey allows smoking in Susana and Myrtle residence halls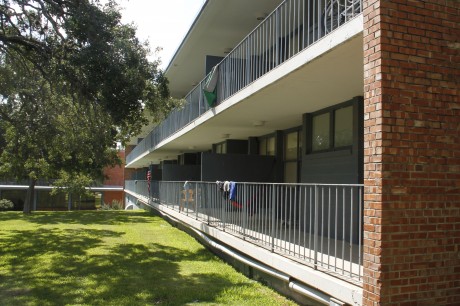 An email issued on Sept. 18, detailed the results of a residence hall smoking survey administered via email on Sept. 7.
The survey asked one question: whether or not a student wanted their dorm to be smoking or non-smoking. Only Susanna and Myrtle voted to allow smoking on balconies and walkways. Respectively, 66 percent and 60 percent of students voted in favor of smoking in these residence halls.
Melissa Flowers, assistant director for residential education, provided some statistics about student participation in the survey.
"1,194 students completed the residence hall smoking vote surveys. This represents 67 percent of our resident population but really 92 percent of eligible voters," said Flowers, pointing out that Residential Life does not administer the survey in Calvert, Thomas, Miller or Lightner due to LEED Certification in those buildings.
All students who live in Thomas or Lightner are made aware of the requirements before registering for those rooms, and both Calvert and Miller are substance free halls.
In a joint meeting, Flowers and Brandon Spencer, a Residential Life coordinator in the upper-classmen area, said that the survey is relatively new, having begun in 2009.
Both Flowers and Spencer were pleased with this year's level of participation. Although the survey is only one question, the pair was impressed with the response.
"It really means that students are taking advantage of that opportunity," Spencer said.
While feedback was strong, some students showed concern over the results. Flowers and Spencer admitted that representatives from the Swashbuckler community were worried about the impact the results would have on their group. Spencer said that he met with Jacob Hugentobler, swashbuckler, and assured him of Residential Life support.
An email distributed to the first floor residents of Myrtle asking them to be respectful of their fellow students. Flowers said that no decisions are reversible and said that "non-Swashbucklers have every right to vote on their smoking privileges."
Many students were glad that smoking will not be allowed.
Junior Jaclyn Bowes, who lives in South, said that she felt obligated to participate in the survey because she knows friends that struggle with health issues due to smoking.
"I voted non-smoking because I am concerned about people with asthma," Bowes said.
Fellow junior Lauren Smith, a resident of Lightner, was adamant about her choice to vote non- smoking, stating that she had health problems similar to those addressed by Bowes.
"I think that Trinity should become a smoke-free campus," Smith said, admitting that she chose Lightner partly because of its stance on smoking.
Flowers and Spencer did say that while rare, students suffering from health conditions can relocate dorms in certain circumstances. However, the survey administered to first year students during the summer does address that topic.
Students who break the rules may be subject to punishment, which could include a fine. Flowers said that an infringement of the decision could also result in a balcony violation. Fines, she said, begin at around $25 dollars and rise with each infraction.
With student concerns in mind, Residential Life looks forward to creating the best living experience for all Trinity students. Both Flowers and Spencer reiterated that they were "happy and impressed" to see the survey numbers that high.
Leave a Comment