Trinity fountains go green, literally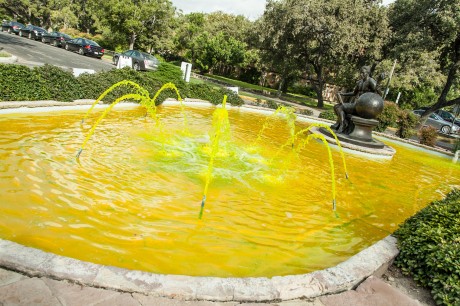 The "green dye" test used by the City of San Antonio ensures that there is no risk of cross connection between potable water and recycled water on campus and is responsible for the abnormal coloring of water across campus this week.
"There are two types of water on the Trinity campus: potable and recycled. The recycled is used for landscape irrigation and exterior water features, while potable is for drinking, bathing, etc," explained Mike Schweitzer acting director of buildings and grounds.
Trinity University must pass water systems tests from both the San Antonio Water Systems and the City of San Antonio. Although Trinity's water systems passed San Antonio Water System's tests with flying colors twice already this year, the water systems are now being tested by the City of San Antonio.
"Although the City and SAWS work closely together, they are separate entities, with different testing criteria," Schweitzer said.
Due to extensive construction across campus, water testing is being conducted again on campus.
"These inspections typically take place during Christmas break, while the campus is deserted. However, any time there is construction on campus that affects our irrigation systems, we are required to notify both the City of San Antonio Plumbing Inspector and San Antonio Water Systems. In the case of this recent dye test, the City of San Antonio required it in order to satisfy and finalize recent construction projects permitted through their office," Schweitzer said.
According to Schweitzer, the dye will remain in the water for a couple of days until the testing is completed.
"The dye will stay in the system until it is fully flushed through all individual stations around campus. One regularly scheduled irrigation cycle should flush it through, but, depending on how long the individual stations run, we may see it for a day or two longer," Schweitzer said.
Leave a Comment