Debate team brings health care discourse to Trinity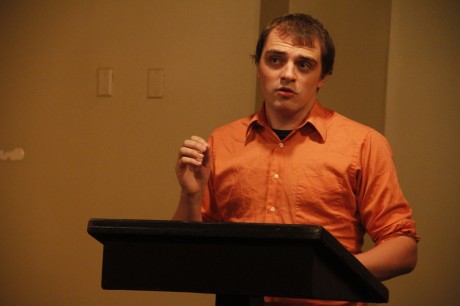 On Thursday, Sept. 27, Trinity's debate team hosted a debate open to the public in the Tiger's Den to debate the following resolution: The Obama Health Care Plan (Affordable Care Act) is an infringement of the First Amendment right of religious institutions.
In the midst of First Amendment week events, as well as the upcoming presidential election, the the debate allowed for open dialogue regarding the act and its constitutionality.
The Patient Protection and Affordable Care Act was enacted on March 23, 2010 and has since brought about much controversy, especially regarding its mandate that insurance companies cover contraceptives. Specifically, the mandate requires that all organizations, even religious organizations, provide health care that covers contraceptives for their employees.
First-Year Nathan Rothenbaum, and his teammate Senior Tim Knoedler, began the debate by negating the resolution.
"The political discourse of the bill has always been steeped with misinformation and scare tactics. The distinction is between religious institutions and organizations related to religion. The mandate does not force religious institutions to cover contraceptives; it forces insurance companies," Rothenbaum said. "The HHS had proposed a complex policy that would allow insurance companies, rather than employers, to cover contraceptive covers, so religious institutions could avoid any entanglement in providing the insurance. That proposal solved the problem."
Although seemingly straightforward, Junior Misael Gonzalez and Senior Steven Murray represented the common affirmative beliefs and demonstrated that the objections to the ACA are far from over.
"What does it mean to be morally complicit? If I watch someone drown, even if I did not shove them into a pool, certainly we would say I am complicit in their death. We cannot force religious institutions to be complicit in something they find unethical any more than religious institutions can force the government to be complicit with something unethical," Gonzalez said. "What is so important for this debate is to be aware that the First Amendment is not only one that protects freedom of speech, and it seems that we have forgotten that meaning in the past years, but it also affirms the separation of church and state. The ACA blurs these lines."
Many provocative questions were asked from the audience and their fellow debaters regarding the act. The debaters stressed that they do not necessarily represent their own opinions in these debates. However, they value both sides of the dialogue and find it a vital part of their civic responsibility.
In the coming weeks, the Trinity debate team will be holding a debate open to the public on the Affordable Care Act as a whole.
Leave a Comment