Progressives promote voter registration before election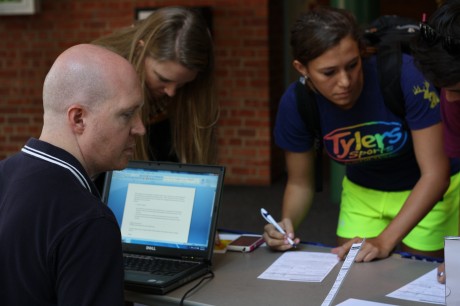 In the past four weeks, members of the Trinity Progressives registered 139 Trinity students and faculty to vote.
The number of students and faculty registering fluctuated depending on the day and the time.  Each Tuesday/Thursday, an average of five to 10 people registered, and on Monday/Wednesday/Friday, an average of 20 people registered.
The campaign to register students and faculty precedes the November presidential elections and follows the deputization of several members of the Trinity Progressives.
Senior Taylor Capps, a voter registrar, attended an ethics course at the Bexar County Election Office with other Trinity students. After completion of the seminar, Capps and three others were sworn in and licensed.
"Voting is an important exercise because not all countries offer this opportunity. It is a way to participate and play a greater role," Capps said.
Edwin Blanton, coordinator for community service and engagement, is a member of the Campus and Community Involvement staff and echoes Capps' urge for students to partake in elections.
"I think voting is imperative because we live in a country where we are able and should  express our voice. The best and easiest way to do that is through voting," Blanton said.
Capps encourages any student to register at their table outside of Coates. Students who register to vote at one of the tables on Trinity's campus will vote from Alamo Stadium come November. The Progressives also provide information about additional polling locations and the voting process in general.
Jacob Uzman, a fellow senior and registrar, said that the Progressives will be available every day next week. The deadline to register for the general election is Tuesday Oct. 9.
Blanton, who believes civic engagement is vital to the Trinity experience, first conducts voter registration during move-in day. Especially in a presidential election year, Blanton said he seeks to provide students with as many opportunities as possible to register.
After placing their voter registration form in the mail, students will be mailed a card with their name, address, and the precinct in which they live. Students should bring their registration card with them to the polls as well as valid photo identification.
Students who are registered at the home address must return to that location to vote. They will not be allowed to vote at the location nearest Trinity if their card says otherwise. The hours on Election Day are from 7:00 a.m. to 7:00 p.m.
National Voter Registration Day, which was last Tuesday Sept. 25, is a coast-to-coast initiative to connect with Americans. Blanton hosted a table within Coates and registered 60 individuals total.
Teresa Isensee, a senior, was animated about voting and exercising her right.
"This is my very first time to vote," Isensee said. "This is my chance. Voting is having a say. I feel like I'm living in history right now."
Senior Andreas Jozwiak, who registered through the Trinity Progressives, says that each vote does count, even though it can seem the opposite.
"Keep in mind that the November elections are also for state and local office and those politics matter as well," Jozwiak said.
Additionally, the Trinity Progressives, who exhibit liberal principles but offer no official endorsement during voter registration, will be hosting debate viewing parties. They are partnering with Team Vote of TUVAC. The next party will be on Thursday, Oct. 11 at 8 p.m. Students will be able to watch the presidential debates in a bipartisan viewing capacity in the Fiesta Room.
Leave a Comment