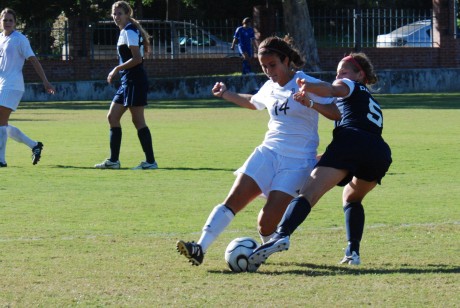 The newly number one ranked Trinity women's soccer team dominated on the road this past weekend, handily defeating both Centenary College and Austin College in the opening weekend of SCAC play.
"The team performed really well this weekend, probably the best we've played all season." said sophomore defender Shelby Hopkins. "We had a heightened sense of intensity and awareness and that really led us to play really well. This weekend was a turning point for our season."
The Tigers traveled first to Shreveport, Louisiana where they beat Centenary 10-0 on Friday night.
Sophomore midfielder Emily Jorgens and sophomore forward Stephanie Segovia scored three goals each in the game. Jorgens' first goal came in the fourth minute of play, and Segovia followed up with two of her own to put Trinity up 3-0 going into the second half.
"We got an early goal and we carried the momentum throughout the game," Jorgens said. "We never let the team create a scoring opportunity."
In the last 45 minutes of the game Trinity scored seven goals. First-year midfielder Robin Lipinski scored the first goal, followed by Jorgens in the 50th minute. Segovia scored her third goal in the 71st minute, followed four minutes later by Jorgens. Hopkins, senior midfielder Lauren Henderson and first-year midfielder Emily Donnan all contributed with goals in the second half as well.
"We were super creative in the box with our runs and found the back of the net," Lipinski said in an email. "Earlier in the season we struggled with finishing corners, but I think in these games we definitely improved in that aspect."
The Tigers also dominated defensively, allowing only one shot in the game, while recording 57 shots of their own.
Trinity then traveled to Sherman to defeat Austin College 7-0 on Sunday afternoon.
"The momentum and excitement from the Centenary game really carried over to Austin College," Hopkins said. "We played with an intensity that we hadn't seen all season."
Junior forward Shelby Guenthardt, first-year midfielder Maggie Olvera and senior midfielder Katy Lipscomb all scored goals in the first half. Less than three minutes into the second half, junior defender Jennie White scored a goal, followed closely by a goal from Hopkins. Segovia scored her seventh goal of the season in the 74th minute. For her performance this weekend, Segovia was named SCAC Offensive Player of the Week.
"Our team had very good connectivity in the second game," Jorgens said. "We were able to find each other's feet and string a lot of passes together."
Trinity hits the road again this weekend, traveling to Chicago to face No. 5 ranked Wheaton College on Friday and Loras College on Sunday. Trinity is now 8-0-1 overall and 4-0-0 in conference play.
"We have improved immensely," Lipinski said. "We are more completing passes and are becoming more comfortable with each other on and even off the field, which I think is extremely important. I can't wait to see where the future takes us."