ASR VP on parking, restrictive poles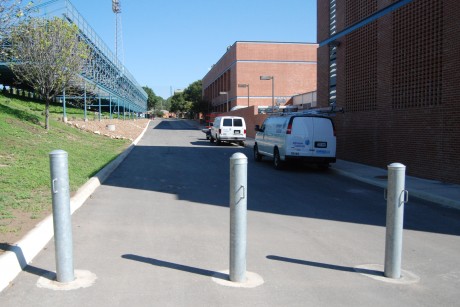 As ASR's vice president, my role usually consists of overseeing the process of allocating the Student Activity Fee, which is a fancy way of saying that I maintain and update a very large Excel spreadsheet. However, every once in a while, I like to take the time to address major issues on campus. One that I am particularly passionate about is the issue of parking. As a student who drives pretty regularly, I often have difficulty finding parking "¦ and yes, I have received my fair share of parking tickets for parking in visitor or faculty spots when I was in a crunch to get to class. This problem was only compounded last year because of the increased construction on campus and the resulting closure of the parking lot across from Laurie Auditorium. I quickly found, unfortunately, that there was no real way to have my voice heard on this issue, mainly because there was no organization or committee equipped to respond to my concerns. TUPD enforces existing parking policy, and the Committee for Traffic and Parking mainly hears ticketing appeals.
To remedy this problem, I spent this past summer working to change the charge of the Committee for Traffic and Parking. After convincing the Faculty Senate, President Ahlburg and the rest of ASR to support my proposal, the committee "" composed of three faculty members, three administrators and three students "" is now charged with the responsibility of creating a strategic plan with regard to long-term parking policy and has oversight over the price of parking passes and ticket amounts. Imagine my surprise and excitement when not only was I appointed to serve on the committee, but also, after our first meeting, my colleagues on the committee elected me to serve as their chair!
To quote Spider-Man (actually, technically Uncle Ben), "with great power comes great responsibility." As chair of the committee, my goal for the year is to create a parking strategic plan. Just like we have a long-term plan with regard to the future of the university, I believe that we need to have a long-term parking plan as well. This is going to require us to plan ahead for future construction projects and parking lot closures, but it will also require us to set certain priorities, the most important of which will be finding a balance between creating additional parking space while also preserving the maximum amount of green space. This is going to be a challenging but rewarding endeavor, and I hope to involve a lot of student, faculty and administrative input. I invite everyone not only to email me with your parking ideas and concerns, but also to attend a town hall that I will be hosting in the near future to discuss our priorities on this issue going forward. In closing, I cannot express how much I have enjoyed my time at Trinity, and it is a rare privilege to be given an opportunity to give back to an institution that has given so much to me. I believe that, with your help, we can not only make a difference this year but also leave a positive impact on campus for many years to come.
My thoughts on the poles behind the Bell Center:
Last week, the Trinitonian published an article on the poles behind the Bell Center, quoting Mr. John Greene, the Facilities Services Director as saying that they are going to be a permanent addition to our campus. Upon reading the article, I went to go speak to Mr. Greene to discuss the issue further, and he argued that the poles promote a more pedestrian friendly campus and that it has cut down on traffic in that area of campus significantly. He also stated that the poles are useful in closing off that area during athletic events.
While I think these are good points and very legitimate goals, many students have argued that the obstructions behind the Bell Center pose a public safety issue, because if TUPD needs to respond to an emergency situation on that side of campus, they now have to either take the time to remove the poles or drive around campus via Shook and Mulberry. Additionally, I believe that the poles break down campus community between the Sophomore College and the rest of campus. Finally, prospective students and their parents have complained about the difficulty of navigating campus during Trinity 360 events. In my view, the negative aspects of the poles outweigh the positives of promoting a pedestrian friendly campus, as worthwhile as that goal is. I look forward to speaking to Mr. Greene more about this issue and hopefully coming to agreeable solution that benefits all parties.
Sean Solis, senior, is the vice president of The Association of Student Representatives. To voice your opinion of the poles, vote here.
Leave a Comment