Adviser stresses importance of science education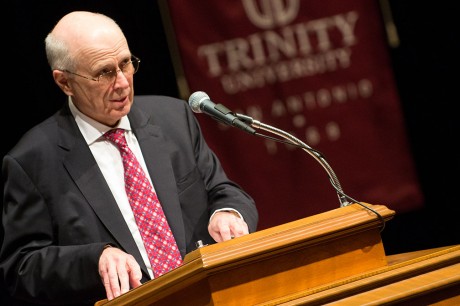 William E. Colglazier, science and technology adviser to the secretary of state, visited Trinity this past Monday as part of the Distinguished Scientists Lecture Series. Colglazier's lecture covered his expertise in the field of science diplomacy, a relatively new field that involves the intersection of scientific research, technology and international diplomacy.
More specifically, Colglazier defined science diplomacy as "scientific technology aiding diplomacy and diplomacy aiding science… [it's] science helping to solve problems that countries face…"
Colglazier focused most of his lecture on the importance of science and science education both domestic and abroad, as well as the role of the scientist outside of the laboratory. He cited the scientists of the Manhattan project, whom, he noted, helped to construct the atomic bomb but also campaigned for prudence in its use.
"The world would be a better, more rational place if more countries would listen to their scientists," Colglazier said.
He then went on to elaborate on his own position, as well as the larger place of science in the actions of the state department. Explaining that the premier issue for himself and the world at large in regards to science is the use of it, coupled with technology, as tools of economic growth, Colglazier outlined the specific ways in which a country can encourage scientific progress.
Among these were reforms to science and mathematics teaching, more support for students in the science fields and more support for research and development from the government. He further elaborated that scientific progress is aided in countries by various legislative aims, including strong intellectual property laws and immigration policies to ensure a steady supply of talent.
Colglazier closed his lecture by reiterating earlier points regarding science diplomacy, stressing that "the ultimate connection between science and diplomacy is shared values of freedom and democracy."
Leave a Comment