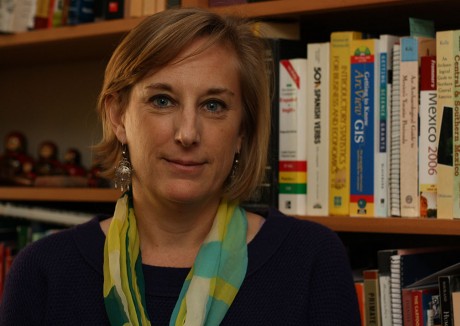 Jennifer Mathews, associate professor of anthropology, shared her expertise about Mayan culture in an Aug. 30 article in National Geographic News. The online news source sought her opinion concerning the discovery of an ancient Mayan tomb containing the remains of a prince and his rare drinking vessel.
Mathews, whom National Geographic approached during the summer, was excited about this chance to educate the public.
"It really does not get much bigger than this," Mathews said. "This was a great opportunity to address a major audience."
An expert on the ancient Mayans, their roads, architecture and sites, Mathews feels an obligation to reach the general public when discoveries are made.
This particular find is unique because the vessel reveals information about the hierarchy within Mayan royalty. The cup shows that the prince was a minor royal and would never take control of the throne. Mathews compared him to Prince Harry of the House of Windsor.
"He was never meant to ascend the throne but was still entitled to all the privileges of the royal lifestyle," Mathews said.
The tomb, located in the ruined city of Uxul, had not been looted. Mathews explained that many times ancient people would ransack tombs to sell the treasures inside. When a tomb is disturbed, the artifacts inside are compromised and archaeologists might misinterpret their informational context as a result. This tomb's untouched state allowed for these new conclusions to be made.
Generally, Mathews does not work on projects specifically about royalty. She examines the climate, environment and sustainability of Mayan life.
"Tombs are such a small portion of the material to be studied," Mathews said.
She compared studying strictly Mayan tombs to analyzing American society based solely on the White House.
According to Mathews, new finds and digs occur annually and can dramatically alter views on the world. For her, this is what keeps her subject interesting, as it changes constantly, forcing her to continually update her syllabi.
Click here to view the Aug. 30 article.