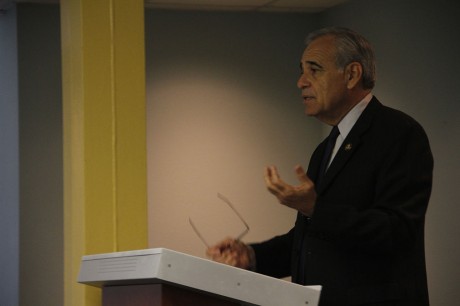 Democratic Congressman Charles A. Gonzalez of Texas' 20th congressional district ""which serves much of San Antonio""since 1999 spoke to Trinity Students on Oct. 17, in the Waxahachie Room after Dean of Students David Tuttle approached him at the local YMCA.
"People always approach you as a public figure," Gonzalez said. "In fact, it's a bad thing when they don't, because that means they don't know who you are." Gonzalez proceeded to tell students about a man who asked him about immigration at a urinal stall of the Embassy 14 movie theater saying that was "not the place to talk about immigration."
Gonzalez, whose last day in office is January 2, 2013, previously announced his retirement from public office. As such, Gonzalez spoke to students about his experiences in office, his beliefs on what needs to change in Congress and the best and worst moments of his career.
"It used to be that you had to have a meeting of the minds," Gonzalez said. "Now, we have entrenched congressmen. We have people seeking to work in an office they don't respect."
During a time of intense polarization, in which the cloture vote is utilized more often than ever, Gonzalez spoke at length about the importance of negotiation and compromise in Congress, at one point using the words of fellow Congressman Barnett Frank, who said, "If you aren't able to work closely with people you despise, you can't work here."
During the question-and-answer session, Gonzalez told students he thinks it is necessary to bring compromise back to Congress""getting committee chairs involved in fostering discussion. "We have discussion and compromise in committees," said Gonzalez. "We need to get the committee chairs involved."
Junior political science major Holly Josserand appreciated that Gonzalez gave a solution to the problem that he spoke about. "It was a really interesting solution, and not one that I had heard before," said Josserand.
During the question and answer session Gonzalez also told students about his most memorable moments as a member of Congress: speaking with Ron Paul after both voted against involvement in Iraq, passing ObamaCare, and clapping for Congresswoman Gabrielle Giffords when she appeared in Congress after being shot in Arizona.
Finally, Gonzalez told students his opinion of Obama as a Washington insider. "He isn't a big liberal. He is a moderate "" a true believer in consensus," said Gonzalez. "The president has been stymied. "We have not been well served by opposing for the sake of opposition."
"I really appreciated that Gonzalez came to speak to us," said Josserand. "He obviously has a lot of experience in Congress, and his opinions were well informed, reasonable, and interesting."