Mens soccer wins over friends and family weekend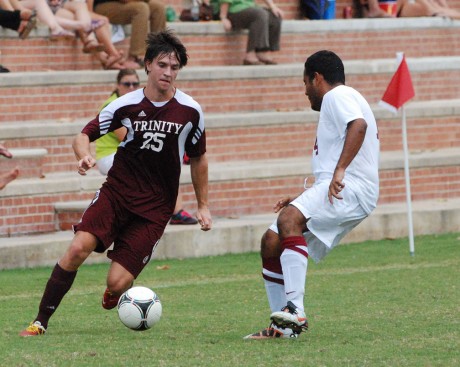 To the tune of cheering friends and family who came out to support the Tigers for Friends and Family Weekend, the Trinity men's soccer team went 2-0 this weekend, defeating both Austin College and Centenary College in Southern Collegiate Athletic Conference play.
"We had really good individual and team performances," said assistant coach Tom Cartee. "We did a better job playing how we wanted to play, turning in good performances, and showing that we're achieving some consistency in performing how we want to perform, which is exciting
The Trinity men beat Austin 6-2 on Friday evening. Junior midfielder Yuri Ribeiro scored the first goal in the third minute and then the second goal in the 12th minute. Senior midfielder Nima Naderi scored Trinity's third goal, right before Austin scored their first goal in the 33rd minute. With just eight seconds left in the half, sophomore forward Johnny Lawson scored the fourth goal for Trinity.
"We circulated the ball really well," said junior forward Jeremy Gray. "We moved, we talked, we did everything we try to do in practice."
Although Austin scored one more goal in the second half, junior forward Alan Castillejos scored two straight goals to put them away, his last goal coming off of a diving header. Sophomore goal keeper Matt Cardone made three saves in 90 minutes of play.
"We won comfortably and we played some good soccer," Cartee said. "All in all, not our best performance, but a solid performance."
The Tigers then beat Centenary 7-0 on Sunday afternoon. In honor of Friends and Family Weekend, all nine seniors started and ended the game.
"The whole game we kept up the pressure and scoring goals, so it was a good performance," Lawson said.
Gray, first-year defender Tom Carwile, and Ribeiro all scored goals for Trinity in the first half. Lawson scored the first goal in the second half, followed by two goals from sophomore midfielder Victor Araujo, a goal from Ribeiro, and a final goal from Castillejos. Ribeiro was named SCAC Offensive Player of the Week for his performance this past weekend.
"It was a step up from the Austin game," Gray said. "We implemented everything we've been talking about, just at a higher level and a faster pace and it was an enjoyable game to play in."
Trinity improved this weekend to 7-0-0 in SCAC play and 14-0-2 overall.
The Tigers head next to Colorado Springs, where they take on No. 2 in the conference Colorado College on Friday, and then down to Dallas, where they play the University of Dallas on Saturday.
"Colorado is a huge game, because it's on the road, they're going to have a big crowd, and they're a tough matchup," Cartee said. "It's nice to have some rhythm and momentum going into it, but we're expecting a war. We believe we're up to the task, but it won't be easy."
Leave a Comment