Vandals cause damage to high-traffic elevators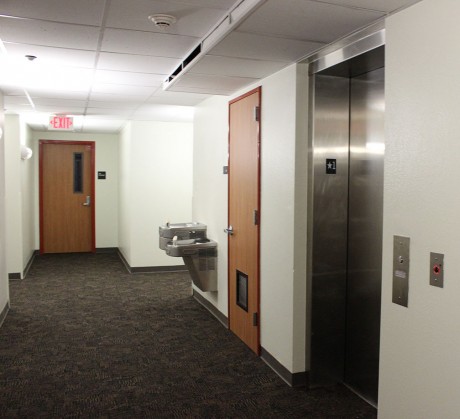 Partial repairs to one of two elevators in Thomas residence hall recently cost Facilities Services nearly $10,000.
Money for the repairs came from a Facilities Services fund that is budgeted specifically for elevator maintenance.
The elevator, the oldest on Trinity University's campus, broke in late September when it was vandalized by multiple unknown parties.
According to Jim Baker, associate director of Facilities Services, the vandalism did not damage the elevator to the point where it would not run, but it did cause the elevator motor to come out of alignment, which in turn caused a large amount of cascading damage to the other elevator parts.
Damage also occurred to the elevator doors, Baker said, and Facilities Services is still waiting on parts in order to fix that damage.
The first request for service on the elevator came on Sept. 26, and Facilities Services allocated money towards parts and other repair costs two days later on Sept. 28.
The repairs required are also complex due to the nature of the damage, and therefore re-calibration of the elevator is an ongoing process.
Thomas, which has eight floors, houses close to 200 students and has only the two elevators. Despite this, Facilities Services has not received many complaints from students living in the residence hall.
"[Residents in Thomas] have been pretty understanding," Baker said. "We haven't had a lot of complaints about this."
However, the temporary downtime of one of the elevators has been a pain for some of the students living in Thomas.
"It's been a hassle," said Viraf Nariman, a sophomore Thomas resident. "We kind of just complain among ourselves."
Outside from the recurring damage to the Thomas elevators, vandalism is not a major problem on Trinity's campus.
"Vandalism this year so far has been pretty minimal," Baker said. "For some reason Thomas seems to catch a lot of abuse on elevators."
The elevators in Thomas have been operational since 1965 and will continue to be operational as long as they receive consistent maintenance.
Leave a Comment