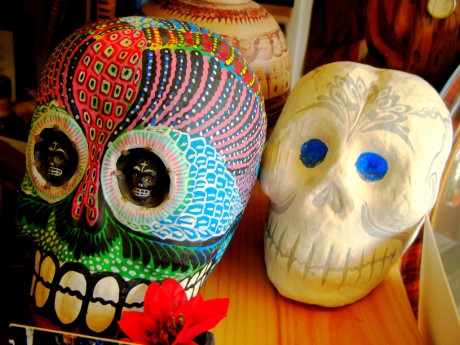 It's time to put away the Halloween masks and pick up some skull face paint. Today is Dia de los Muertos, a Mexican holiday that traces its roots all the way back to an Aztec festival dedicated to Micteacacihuatl, the queen of the underworld. It is a day to honor the dead by heading to the cemeteries and building private altars, which are decorated with food, drinks, photos and marigolds for departed ancestors.
In addition to this practice, dances, processions and celebrations ensue throughout the day. Though this holiday is called The Day of the Dead, its festivities are certainly lively enough to merit a visit. Here are just a few Dia de los Muertos events you can experience in San Antonio.
La Villita's Downtown Day of the Dead Celebration
Where: South Alamo & Nueva Sts. or the Riverwalk & Arneson River Theatre
When: Today, 2 – 9 p.m. and Saturday, 10 – 6 p.m.
This year, La Villita is hosting a variety of venues for Dia de los Muertos. Learn about the history of the holiday, listen to some live music, watch the blessing of a living altar and feast on some sugar skulls. Perhaps one of the most interesting parts of this festival is the dance, drum and Puppet procession put on by Las Monas, a traditional performance group here in San Antonio. This parade of intricately painted performers and giant skeleton puppets can be seen at 6:15 p.m. on Friday and 1 p.m. on Saturday.
The opening of the 35th Annual Dia de los Muertos Exhibit at Centro Cultural Aztlan
Where: 1800 Fredericksburg Rd.
When: Today, 6 – 10 p.m.
This event features the artwork of over a dozen local artists, specifically focusing on different artistic constructions of Day of the Dead altars. Along with providing some cultural food, such as Pan de Muerto (a sweet bread flavored with orange and anise), Centro Cultural Aztlan is also hosting the Urban 15 dance troupe and a runway fashion show featuring Henry De Leon, Oscar Galvan Jr. and Fabian Diaz.
Guadalupe Cultural Arts Center's Community Celebration
Where: Guadalupe Gallery, 723 S. Brazos St.
When: Today, 6:30 p.m.
Here at the Guadalupe Gallery, you're likely to get a bit more of an authentic feel for Dia de los Muertos. The focus is on a neighborhood vibe and the illustrious cultural history of the holiday. In addition to altar workshops and great food, there will be a performance by the Guadalupe Dance Company.
Bedoy's Bakery
Where: 803 W. Hildebrand Ave.
When: All weekend
Though each and every Dia de los Muertos festival has traditional food available, the quality of the food, as with any large catered event, is going to be a bit of a gamble. If you want to have a sure bet on some great traditional Mexican pastries, Bedoy's will serve you well. Their Pan de Muerto is known to be some of the best in San Antonio.