Women's soccer wins last regular season game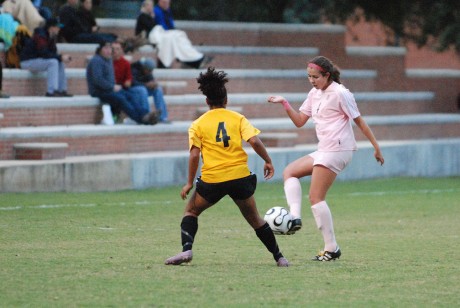 The women's soccer team won its last regular season game on Friday evening, defeating Southwestern 8-0 in the Southern Collegiate Athletic Conference play and claiming the top seed in the SCAC tournament.
"We played extremely well, and it was probably one of our better performances of the year from start to finish," said assistant coach Owen Collie. "The girls passed the ball really well, kicked really well and completed over 400 passes the whole game."
Sophomore midfielder Kelsey Falcone and junior forward Shelby Guenthardt each scored three goals for the Tigers. Falcone scored the first two goals of the game, putting Trinity up 2-0 going into halftime.
"One of the things we did a good job with was finishing crosses we put into the box and getting into dangerous positions that let us score goals," Falcone said.
In the second half, Trinity scored three goals in eight minutes, two of which came from Guenthardt. Guenthardt scored her goals just 30 seconds apart and both were assisted by sophomore midfielder Mariah Risk and first-year midfielder Kimberly Polasek. Falcone scored her third goal in the 74th minute and Guenthardt scored her third goal with only 90 seconds left to play.
"The whole team did a good job," Falcone said. "It was a team effort and I think that's showing in a lot of our games."
Polasek and first-year midfielder Maggie Olvera also recorded goals for the Tigers. Sophomore midfielder Emily Jorgens and Polasek contributed with three assists each, while Risk and junior midfielder Tara Sparks had two assists each. For her performance, Polasek was named SCAC Defensive Player of the Week.
"In the second half we found our momentum and were able to connect our passes together," Jorgens said. "We had a lot of good combinations in the final third of the game."
Trinity out-shot Southwestern 18-0 in the first half and 39-1 overall.
"The game went really well for us," Falcone said. "I feel like we played consistently well the entire game, we were strong both offensively and defensively and it was a good game leading into the SCAC championships this weekend."
Friday night's game was also part of the Blackout Breast Cancer weekend, the Trinity women raised over $10,000 for the "Scoring for the Cure" fundraiser.
Trinity heads next to the SCAC Tournament with a first round bye, which begins this Friday. They play the winner of the Austin College and Centenary College game tomorrow at 5 p.m. in Georgetown, Texas.
"We're in it to win it and making sure we maintain a high standard preparing for the playoffs the following weekend," Collie said. "We're still in the peak and we're just trying to maintain those high standards and get better each game."
Leave a Comment