DeLue enlightens audience about abstract art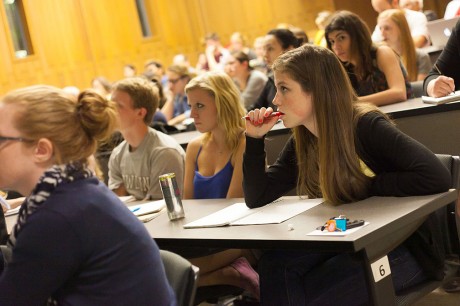 On Tuesday, Nov. 6, Rachael DeLue of Princeton University spoke to faculty and students in Chapman Auditorium concerning common elements and themes in the artwork of 20th-century American abstract painter Arthur Dove.
DeLue teaches in the art and archaeology department at Princeton and is currently lecturing at universities across the country about her research on Arthur Dove. She has extensively studied Dove's life and art as well as his diaries, and she is currently writing a book about meteorology in his art.
Dove was part of an early 20th-century art movement including artists like Georgia O'Keefe and Gertrude Stein.  DeLue showed examples of concentric circles and weather phenomena in his art and focused on Dove's desire to "give visual form to un-seeable phenomena" such as moon or sun light on the earth.
Dove believed that weather "ties together earth's disparate places and peoples," making them into a kind of whole.  He wanted to draw connections and establish art as a form that could "forge universalizing bonds."
DeLue also pointed to Dove's desire to communicate and translate things from one form to another, which included making art of various objects to create art from many different mediums. Dove also often used "one material to act like or stand for another" and played with translations and substitutions.  He used his paintings to connect "many bodies and senses and materials."
Junior art history student Maddy Carr said, "DeLue's connections of circles and the weather and wanting to be part of the world all described Dove's work in an enlightening way."
Audience members included Trinity faculty, alumni and students, specifically art history students, as well as members of the San Antonio community.
Leave a Comment