Jazz Ensemble brings the heat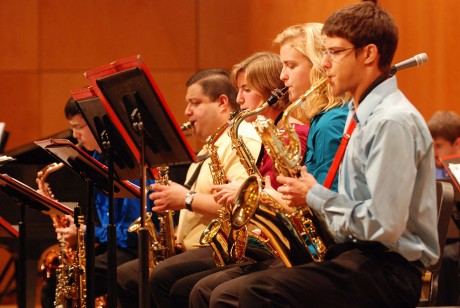 At 7:30 p.m., Saturday, Nov. 3, the Trinity University Jazz Ensemble performed its annual fall concert in Ruth Taylor Recital Hall. The concert featured 10 pieces performed by the ensemble punctuated by an intermission performance featuring a small jazz combo.
The first performance of the year for the ensemble also marked the first with their new director, Chris Magee.
"Magee has provided the band with a different environment," said sophomore drummer Ben Whitehead. "He's done a good job of bringing everyone together as a group."
The ensemble practiced four hours per week under Magee's tutelage in preparation for the performance.
"We've come a long way since August," Whitehead said.
The group did encounter some challenges. The ensemble was lacking in numbers for this particular concert and was forced to do some recruiting calling to local Jazz players to fill the void. The band also consisted of numerous first years.
"[The first years] have hopped in and done a great job and been great additions to the band," Whitehead said.
The ensemble has also benefitted the first years looking to experience and learn the jazz idiom.
"The experience has been helpful in learning how to play different styles," said first year bassist Brian Shrock. "One of the most rewarding aspects has just been getting better."
The Jazz Ensemble performed jazz standards such as "In a Mellow Tone" and also more challenging pieces such as a Woody Herman arrangement of "Fanfare for the Common Man" by Aaron Copland.
The small jazz combo that performed during intermission featured bass guitar, guitar, drums, two trombones and a trumpet improvising over jazz standards such as "Straight, No Chaser."
Magee's particular favorite songs were "The Heat's On" which opened the concert and "No Greater Bebop," played at the performance's close. These pieces were especially effective because they left room for improvisations by the band's many soloists.
"Good pieces [of jazz] are vehicles for improvisation," Magee said.
According to Magee, the Jazz Ensemble provides students an opportunity to enjoy one of America's oldest art forms.
"Jazz is alive and well at Trinity," Magee said.
Leave a Comment