Lack of interest threatens to end programs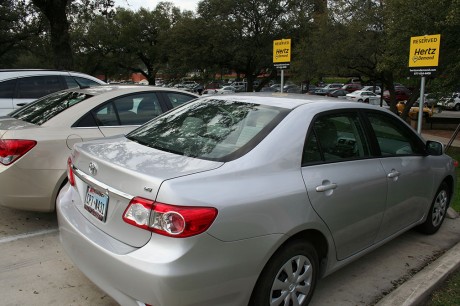 This semester, a number of programs and opportunities on campus are on the edge of cancellation due to low attendance and lack of interest. Among these, opportunities such as Career Service's Tiger Treks have already been canceled, and third-party programs such as Hertz On Demand hover on the edge of retraction.
Other programs include a recent leadership conference that came close to cancellation, as well as recent showings of movies whose attendance numbers were less than desirable. David Tuttle, associate vice president of student affairs and dean of students, feels that a number of quality campus opportunities fade into the background of Trinity's busy college campus.
"I think there's a lot of great ideas, but it's just hard to see them through when there's a limited number of people who take advantage of those things," Tuttle said.
The Tiger Treks program, advertised as a "Road Trip to the Real World," was among those programs receiving inadequate attention. The program, put on by Career Services, aspired to take groups of students across the nation to gain knowledge of specific industries and career types, but it received such little interest that it was canceled in its inaugural year.
Brian Hirsch, director of career services, described the reality of Tiger Treks.
"We had a pilot program set up to take place in October, but we only had four students sign up for it. Ultimately, we decided to cancel the whole thing, having decided that it was probably not the best expenditure of resources," Hirsch said.
Hirsch went on to say that he did not believe that a possible lack of advertising hurt the program's chances but rather a combination of factors. Namely, he expressed concerns that many students are not willing to commit the required two and a half school days, especially when this iteration of Tiger Treks would take place locally without the allure of out-of-state travel.
Career Services also has a number of other programs, designed to attract many different students, that are also receiving less attention than desired.
"We've been doing a lot of workshops on very practical things: resume writing, networking, interview practice, etc. But the attendance at these has not been as good as we would like," Hirsch said.
He also mentioned opportunities such as a first year pre-med "jump start" program as well as seminars on how to market a  study abroad experience as examples of programs going unnoticed.
Another program, Hertz On Demand, is at risk for cancellation as well. The program allows students to rent vehicles for use by the hour, has faced a lack of student interest, despite its perceived benefits.
Tuttle supports of the car rental service.
"This program allows people who are 18 to rent cars, and with a group of people the cost is practically nothing," Tuttle said.
However, some are not as impressed by the program.
Alecia Jarrett, a senior, described her experience as more tedious than convenient.
"I signed up for the Hertz card when I was a sophomore, but I found the website difficult; it was frustrating trying to find a time slot," Jarrett said. "In reality, most people would rather grab a ride with a friend."
Tuttle, when asked why he thought these programs received so little attendance, attributed it to a case of a small school wanting many things.
"People want things offered, but we have a small population, so I think people need to have realistic expectations of services they want to have. We always have to be careful about where we're putting our resources, and, if something is not attracting a crowd, then we shouldn't do it," Tuttle said.
View Comments (2)