Men's soccer advances to Sweet 16 round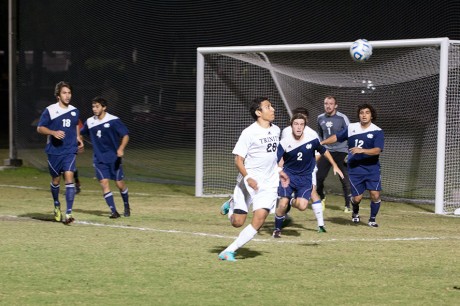 The men's soccer team continued their golden run this past weekend with two wins, advancing them to the NCAA semi-finals this Saturday.
On Saturday night, the Tigers beat Claremont Mudd-Scripps College 3-1 in the first round of playoffs.
"The team had tremendous warrior spirit and we took advantage of the chances that we did get," said assistant coach Thomas Cartee. "We defended really well against a good team and we held them to very few shots on goal."
Sophomore forward Johnny Lawson started the scoring for Trinity, with a goal in the seventh minute of play. In the second half, sophomore midfielder Victor Araujo scored the second goal for the Tigers just a few minutes in.
Claremont scored their only goal of the game on a penalty kick in the 78th minute, but Lawson scored his second goal of the game just 2:22 minutes later, off an assist from junior mid-fielder Raz Forsten. Sophomore goalkeeper Matt Cardone had four saves for Trinity.
"We struggled a little going forward, but defensively we really buckled down and did a great job," said senior midfielder Kyle Porter. "Everyone was disciplined across the board."
Sunday night posed a bigger challenge for the Tigers, as the game against Mississippi College was decided in penalty kicks. However, Trinity stuck it out and came up with a 4-1 win against the Choctaws.
"They took the shots with lots of confidence and accuracy and there was tremendous presence in the goal from Cardone," Cartee said.
The game remained scoreless throughout regulation and 20 minutes of overtime. In penalty kicks, Trinity scored all of their attempts, while Mississippi scored only one of three. Araujo, senior defender Michael Micheletti, junior forward Alan Castillejos and junior midfielder Yuri Ribeiro all scored for the Tigers.
Cardone recorded six saves, including one in penalty kicks. On the season, Cardone has contributed with 62 saves and 11 shutouts. This was Trinity's 14th shutout of the season.
"Overall I think the weekend was a success," said junior midfielder Darren McAfee in an email. "Every tournament game is difficult because every team is playing with their season on the line."
Trinity fan support was also crucial for the win. The energy from the stands was palpable and was felt by both Trinity and Mississippi.
"The number of fans, the atmosphere they created and how vocal they were "" not only did it help us, what it really did was it created an atmosphere that was difficult for the other team," Cartee said. "We're so grateful to everyone who came out and made noise."
Trinity heads into the semi-finals, where they will play Montclair State University at 7:30 p.m. tomorrow night at home. The winner of that game plays the winner of the Ohio Northern University and Susquehanna University game on Sunday night.
"We need to stay focused and humble," McAfee said. "We are completely focused on the game in front of us and nothing else matters until that game is finished."
Leave a Comment