Tag Week spreads donor awareness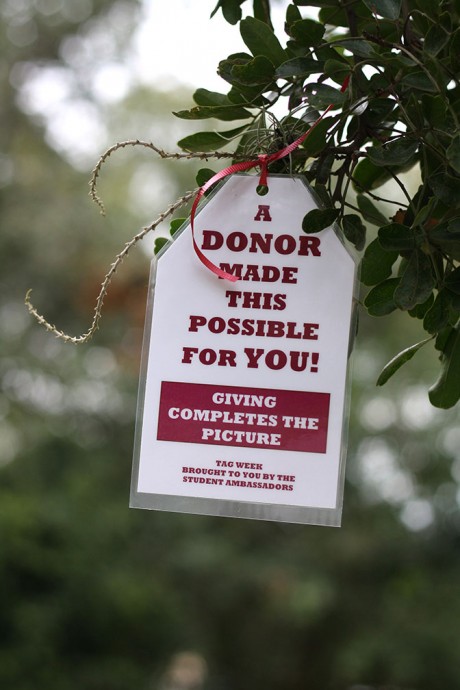 Trinity University Tag Week began Monday, Nov. 12 and ends today. On Tuesday, Nov. 13 and Wednesday, Nov, 14 Trinity Student Ambassadors operated tables from 3-5 p.m. on the Esplanade.
According to Carissa Costello, an annual giving officer and co-sponsor of the Ambassadors, Tag Week is designed to educate the Trinity community about philanthropy and how tuition does not completely cover the entire Trinity experience.
"If you pay full tuition that only covers 65 percent of Trinity's true cost," Costello said. "The rest is covered through donations."
At the tables, students passing by were encouraged to sign thank-you cards that will be distributed to donors. The donors change every year. The Ambassadors distributed 150 t-shirts, with a tag emblem on the back, to students who completed a thank-you card.
Leah Wesselman, a junior and an Ambassador, volunteered for the event to educate her peers about giving.
"As a Student Ambassador, I help current students gain knowledge about giving and about what donors provide," Wesselman said.
Tags with the words "A Donor Made This Possible" were hung across the Trinity campus by Ambassadors and are meant to encourage awareness about student giving.
Junior Katie Ogawa, co-chair for Student Ambassadors, believes strongly that these tags help personalize philanthropy.
"Thanking donors is important because it allows donors to put a face and a name to their donation," Ogawa said.
During the 2011 Tag Week, 226 thank-you notes were written. For 2012 Tag Week, the Ambassadors estimate that over 200 notes were written, although the exact number is yet to be determined.
Junior Hannah Westberg took time out of her day to fill out a note card and to express her gratitude.
"At Trinity, we are very gifted with resources and opportunities. I think that sometimes we, as students, take those things for granted and it is important to take a second and thank donors," Westberg said.
Costello says that giving on any level is important. She says that a $20 donation translates to $400 in endowment funds.
"Although Tag Week is over," Costello said, "students can continue to donate, either to the Trinity Fund or, for seniors, to the Senior Gift."
Tag Week is coordinated by the office of annual giving and is run primarily through the Ambassadors. This initiative also coincided with National Philanthropy Week.
View Comments (1)