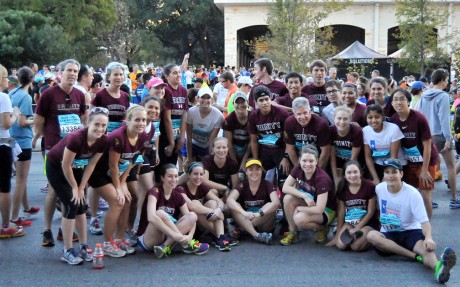 Over 25,000 runners from all 50 states and 22 countries, including 75 runners affilated with Trinity, gathered downtown on the morning of Sunday, Nov. 11, to compete in the fifth Rock "˜n' Roll San Antonio Marathon and Half Marathon.
"The atmosphere was really fun, because it was a beautiful day and there were thousands of runners and tons of supporters," said senior participant Graham Aufricht. "You get to run downtown cheered on by your friends and family and alumni and teachers."
Dawn Grunnagle of Dallas won the women's half marathon with a time of 1:18:09. Elizabeth Eder, a graduate of Trinity University, won the women's marathon. Eder, who graduated in 2009, competed on both the cross country and track and field teams at Trinity.
"It's great to know that we have people from Trinity running in it in general and then to know that an alumnus won is awesome," said senior participant Lucy Cevallos. "It's a great representation of our school."
Kenya's Stanley Biwott, the favored competitor, won the men's half marathon with a time of 1:01:09, breaking the previous record set by United States Olympian Brian Sell in 2008. Biwott has won five races this past year, including the Paris Marathon and the Rock "˜n' Roll Philadelphia Marathon. San Antonio native Jose Munoz won the men's marathon.
In its fifth year, the Rock "˜n' Roll Marathon has garnered almost $6 million for the Susan G. Komen foundation, while out of town visitors have brought even more money into the city's economy.
"You wake up at like 5 a.m. and you get there at 6 a.m., so part of you is just in zombie mode," said senior participant James Jarrott. "But once you get there and wake up, it's like Christmas. You have this buzz but don't know why."
Even closer to home, David Tuttle, associate vice president of student affairs and dean of students, developed his Dean of Students Half-Marathon Challenge, probably better known as "Running with the Dean," in order to prepare Trinity students for the Rock "˜n' Roll Marathon.
"The dean is a monster," Jarrott said. "This man can go from the front of the group to the back to check on people and then still manage to run back to the front of the group and have full on conversations with people along the way."
The program goes from August until November and provides week""by""week directions for training. Exercises range between shorts runs, long runs, days with no running at all and days when a trainee focuses simply on weight training. Each week the long runs get even lengthier, reaching as long as 11 miles the week before the marathon.
"It's really cool that Dean Tuttle does this program," Aufricht said. "It's so fun to get out there with tons of people cheering you on. Even people who didn't think that they could run a half-marathon and then got on his program were really surprised."