Men's basketball continues winning streak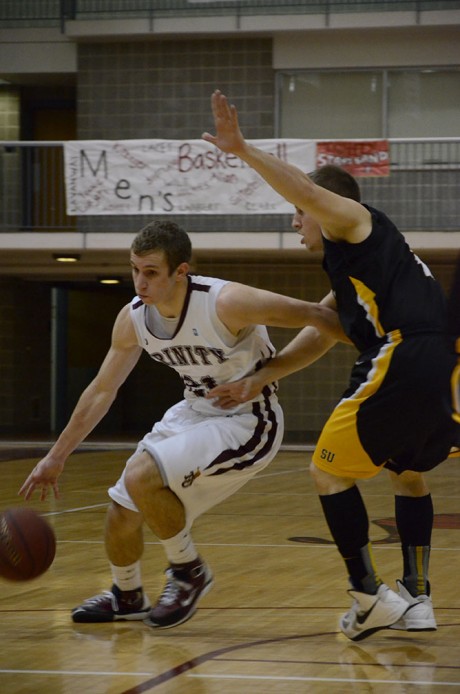 Over the winter break, while most students lounged on the couch watching hours of Netflix and stuffing their faces with home cooked meals, the Trinity men's basketball team was busy winning eight of their ten games.
"Our defense was probably the best aspect out of everything," said junior forward Zach Lambert. "We held our opponents to pretty low scores."
The Tigers kicked off their break in Georgetown with a 58-54 win over Howard Payne University. Lambert led with 17 points, while junior guard Joe Shotland contributed with ten.
Trinity finished the tournament the next day with an 82-43 win over State University of New York Institute of Technology. Lambert recorded 27 points and junior guard Robert Kitzinger had 18 points.
Soon after Christmas, the Tigers opened the Trinity Classic Tournament with a 68-55 win over Lake Forest College. Lambert had 18 points, Kitzinger finished with 17 points, and senior forward Heath Hopson contributed with 12 points.
Trinity wrapped up the tournament with a 72-60 win over Dominican University. Hopson had 13 points and ten rebounds, while Lambert recorded 16 points. For his performance in the tournament, Lambert has named the SCAC Men's Basketball Player of the Week.
"For the most part, we're really playing well defensively and we're competing hard," said Pat Cunningham, head coach. "Offensively, we're not turning the ball over and we're sharing the ball well."
On January 4th, the Tigers continued their winning streak, defeating the University of Dallas 76-46. Lambert contributed with 20 points and Hopson went 5-7 with 11 points.
Trinity lost their first game of the break two days later, falling 68-66 to Colorado College. Hopson led with 27 points and six rebounds.
"That was a pretty big loss, just because we're both fighting for the top spot in the SCAC, but I think we played pretty well," Lambert said.
On Jan. 11, the Tigers began a three-game road trip with a 56-44 conference win over Austin College. Kitzinger and Lambert led the Tigers, scoring 10 points and 14 points, respectively.
Trinity continued their streak the next day with a 67-60 win over Centenary College. Lambert led with 19 points and nine rebounds, while Hopson contributed with 15 points.
Trinity finished their road trip with a 59-46 loss to the University of Texas at Dallas. First-year forward David Lacey led the Tigers with eight points and junior forward Jonathan Wilt had seven points.
"Although we lost, we tried really hard and we never gave up," Hopson said. "We played our hearts out but we couldn't get shots."
The Tigers returned home last Saturday night to defeat Southwestern 66-49. Lacey contributed with 13 points, while Hopson had 10 points and Lambert had 14 points.
Trinity hits the road this weekend, playing the University of Dallas on Friday night and Colorado College on Saturday. Trinity is tied with Colorado with a 6-1 conference record.
"We're getting good shots on offense, but we just have to get a stretch where we shoot the ball well," Cunningham said. "It's just a matter of finding a groove."
Leave a Comment