Women's tennis set their sights high for spring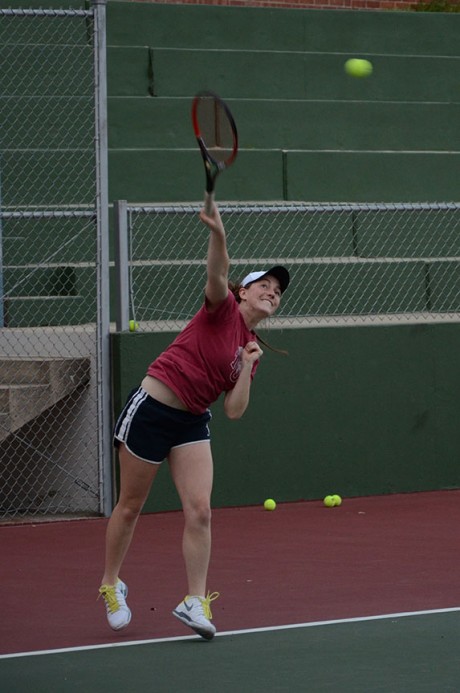 Equipped with eight returning players, three first-years and a new coach, the Trinity women's tennis team is ready to take the Southern Collegiate Athletic Conference by storm this spring.
"I'm just really looking forward to the season," said junior Kylie Hornbeck. "Everyone has put in a lot of hard work so far, we have a new coach this year and three new freshmen so I'm excited to see what we can do."
Coach Jacob McMindes is the new head coach of the women's team. McMindes was the assistant coach of the men's and women's tennis teams last season, and has been the men's tennis assistant since 2009. The three new first year players include Kristy Hamilton from Oak Brook, Il., Gabrielle Roe from New Orleans, LA., and Caroline White from Houston.
"We only lost two girls and brought in three new freshmen that are looking to make a splash," McMindes said in an email. "We also return the heart of our lineup and two All-Americans."
The Tigers worked tirelessly throughout the off-season, staying in shape through a regimen of daily captain's practices and fitness sessions. Since coaches are not allowed to have official practices and workouts during the off-season, the captains led practices on their own.
"Usually in the off-season, a lot of people take a few weeks off, but this year we actually saw people going out there almost every day," Hornbeck said. "People are working out, hitting a lot and trying to get mentally and physically prepared for the upcoming season."  The Tigers first game is against Hardin-Simmons University on Feb. 8, in Abilene.
"I think that it'll be a great test for our team as our first set of real matches," Hornbeck said. "This far the frosh have only experienced individual matches in the fall, so the spring allows us to come together as a team."
However, the Trinity women's team has their sights set higher on the ITA National Indoor Tournament, held at DePauw University in Greencastle, IN. Only the top eight teams in the country are invited, and this is the first time Trinity will be in attendance.
"We are really excited to go to the ITA National Indoor Tournament for the first time," McMindes said. "We are looking forward to just being able to compete against other schools right now. The girls are tired of beating up on each other."
Yet this season holds even more significance after the recent passing of Clarence Mabry, the "Father of Trinity Tennis," earlier this month. Mabry coached the men's tennis team for 18 years and developed the Trinity tennis program into what it is today.
"The team would like to dedicate this season to Coach Mabry who was the founding father of not only Trinity tennis, but also San Antonio tennis," said senior Thavindra Ekanayake in an email. "If it weren't for him, we wouldn't have been here today."
Leave a Comment