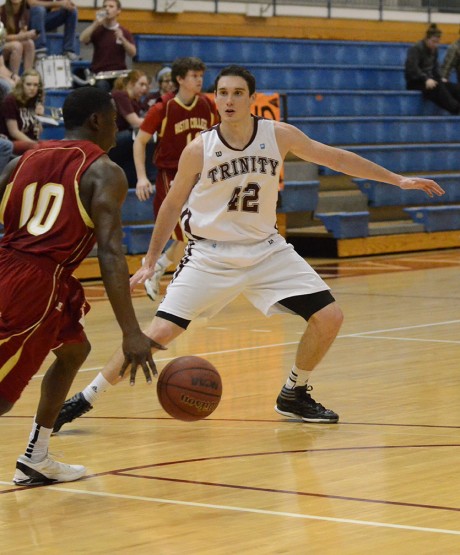 The Trinity  men's basketball team went undefeated in Southern Collegiate Athletic Conference play last weekend, securing victories against both Austin College and Centenary College. The Tigers remain in first place of the SCAC with a 9-2 record.
"Austin and Centenary are very athletic, and like to drive the ball to the basket," said Pat Cunningham, head coach, in an email. "We did a good job of not allowing this and not excessively fouling them as well."
On Friday night, Trinity defeated Austin College 80-67. Junior forward Zach Lambert led with 23 points, junior guard Robert Kitzinger contributed with 13 points and junior guard William Young had eight points and six assists. Junior guard Joe Shotland recorded eight points, sophomore guard Craig Saltarelli had eight points, senior forward Heath Hopson had eight points and eight rebounds, and junior forward Jonathan Wilt collected seven points and eight rebounds.
"That was our first game coming off our loss against Colorado, so I'm pretty happy with the way we responded to losing," Saltarelli said. "Everyone on the team showed up that game, so that was pretty big."
Trinity continued their streak on Sunday afternoon, with an 85-76 win over Centenary College. In the first half, the Tigers broke a 10-10 tie on a 7-0 run, and were never behind for the rest of the game.
Lambert once again led the Tigers with 20 points, six rebounds and four assists. Kitzinger contributed with 17 points, while Shotland collected 15 points. Saltarelli had eight points and six assists, and Wilt had seven points and seven rebounds.
"We shot the ball really well," Saltarelli said. "Centenary is a really strong aggressive team and they also played great defense, but we shot them out of the game and came away with a big win."
On Wednesday night, the Tigers rallied to defeat Southwestern University 68-49.
"It's always a big game when we play Southwestern," Kitzinger said. "They would love nothing more than to beat us, so we responded well with our effort and energy."
Kitzinger led the Tigers with 18 points, while Lambert and Shotland collected 12 points each. Young and Saltarelli both had six assists, while senior forward John Boxberger had six points and six rebounds.
"I was very pleased with the progress our team made over the weekend and in Wednesday's game with Southwestern," Cunningham said.
For his performance this past week, Lambert was named the SCAC Men's Basketball Player of the Week. Trinity heads next to Georgetown, where they play Southwestern again on Friday.
"Our goal is to get the number one seed for the conference tournament," Kitzinger said. "We have three more games to seal that top spot, including a big game against Colorado College at home on Feb. 15. This will also be our infamous stache Friday game, so I expect everyone and their mustache to be there."