Men's tennis goes 4-2 over the weekend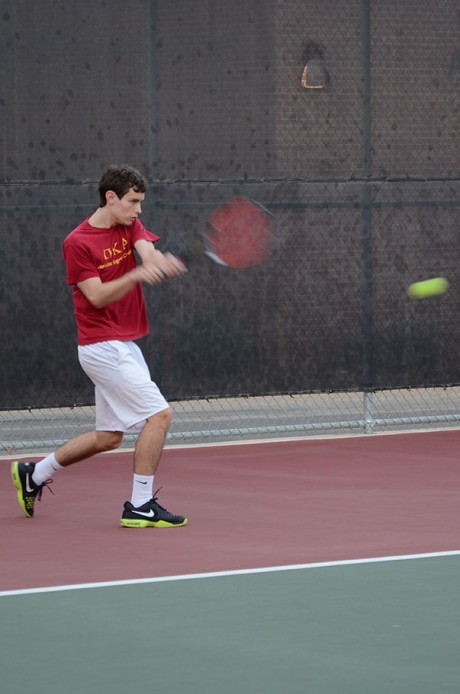 The Trinity men's tennis team opened their spring season this past week with a winning record of 4-2.
"We're just extremely excited to start the season," said sophomore Jordan Mayer. "We have a really talented group of guys that all feel like they could play number one on any given day."
The Tigers won their opening match 9-0 on Friday against Hardin-Simmons University. Sophomore Charlie Curtis won the No. 1 singles spot, followed by Mayer, junior Eshan Jayamanne, sophomore Pablo Diaz Boom and sophomore Brandon Thompson.
Trinity also dominated in doubles, with wins coming from Mayer and senior Erick de la Fuente in the No. 1 spot, junior Nicolas Moreno and sophomore Aaron Skinner in the No. 2 position, and junior Greg Haugen and first year Connor Dunn.
"It was our first match of the season, and it was a Division III match, so it was important that we came out ready to go," said Russell McMindes, head coach. "They came out and played really focused and got the job done."
Later that afternoon, Trinity lost 7-2 to Oklahoma Christian University. The only wins came from Curtis and Mayer in singles.
"They won NAIA Nationals last year, so we knew they were going to be very strong," McMindes said. "We were right there with them and I was extremely encouraged by the way they played that match."
The Tigers headed to Abilene the next morning where they competed in the Abilene Christian University Indoor Championships. The men lost their first match 6-3 to ACU.
Curtis was the only Trinity player to win in singles at the No. 5 spot. In doubles, De la Fuente and Mayer won the No. 1 spot, while Haugen and Dunn won their match in the No. 3 spot.
"We got some good results, but I know not everybody performed anywhere near where they're capable of," De la Fuente said in an email.
Trinity finished the day with a 7-2 win over Tyler Junior College. The men dominated in singles, with wins coming from Moreno, Haugen, Curtis, Thompson and Dunn. De la Fuente and Mayer won in the No. 1 spot in doubles play, followed by a win from Moreno and Skinner in the No. 2 position.
"I was pleased with the way they performed and took care of business," McMindes said.
On Wednesday, Feb. 6, in their first home game of the season, the Tigers defeated Gustavus Adolphus College 7-2. Moreno and Skinner won at the No. 2 position in doubles, followed by a win from Haugen and Dunn. In singles play, Moreno, Skinner, De la Fuente, Haugen, and Curtis all clinched victories for the Tigers.
"Their strength is doubles and traditionally we have been strong in doubles so coming out on top was great for us," De la Fuente said
The men finished their week with a 7-2 win over St. Edward's University on Thursday afternoon. Next Saturday, Feb. 16, the Tigers take on Tyler Junior College and Laredo Community College at home.
"Everyone is always competing and it's making us a lot better," Mayer said. "We are going to be a team to look out for going into the season."
Leave a Comment