Bid Day numbers decline in 2013 active class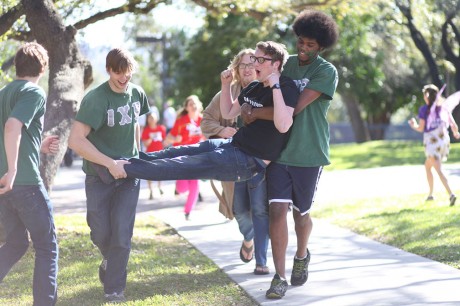 The size of the bid pool for fraternities and sororities decreased this spring from past years due to a variety of interrelated factors, according to Greek leaders and university administrators.
According to Briana McGlamory, coordinator for fraternity and sorority life and advisor to Greek Council, 42 men joined a fraternity, a number greatly exceeded by the 80 women who received and accepted bids.
"Looking at the sorority numbers for this semester, we had 80 take bids. Last year, it was 117," McGlamory said.
The men's numbers were also comparatively low. According to McGlamory, 78 men joined fraternities during the 2012 recruitment cycle, as opposed to just 42 this year.
These low bid day numbers sit in stark contrast with the numbers of potential new members that signed up for Greek 101 last October.
"When it started [in 2011], we had 71 men who were invited and we had 160 women. Those are anyone who had been interested that signed up at any point before [Greek 101]," McGlamory said.
These numbers swelled as the year wore on, according to McGlamory, who is tasked with keeping track of the people who sign up to potentially become Greek actives.
"As we got to the semester kicking off for the spring"¦I did 155 grade checks on men and 175 on women. That's what the lists were at the cutoff point for joining the recruitment list, which was the first day of classes at midnight" McGlamory said.
The rush pool dropped significantly between the first day of classes last semester and Bid Day, although the reasons are still unclear. Some have pointed to a change in GPA requirements as the culprit for the low numbers.
"I think it was last year that  we raised it from a 2.0 to a 2.3," McGlamory said. It remains unclear as to how much this change in GPA requirement factored intto the low bid pool this year, but some students think it had a large impact.
"I'd say a large amount of people were affected," said first year Clint Schroeder. "I know of a fair amount, at least ten, but there's probably more."
Despite this change having some impact, McGlamory does not think that the increased standard is the primary reason behind the small bid pool.
"Yes, some people were affected, but mostly I think it was an easy switch," McGlamory said.
According to Alex Ostertag, president of Kappa Kappa Delta, GPA effectively ceases to matter for eligibility purposes after a potential new member has become active.
"I don't think the school actually pays attention to that. The only time they pay attention is if you want to become a member of a fraternity. I've never heard of anyone being kicked out for having a 1.8 [GPA]," Osterag said.
Not only does GPA have little significance as a factor affecting bid pool numbers according to Ostertag and McGlamory, fraternities and sororities already have high average GPAs.
According to McGlamory, of the 2,341 students that attend
Trinity at this moment, 148 men and 168 women are members of Greek organization, and the average GPA of that body of students is 3.282. This is a good number, especially when compared to the average GPA of the entire campus body, which is a 3.17.
As opposed to GPA factors being a significant influence on the size of the bid pool, Ostertag attributes the low numbers to some combination of the loss of the four fraternities and sororities which were suspended last spring a possible skepticism of Greek organizations on campus.
"There was definitely a niche that those clubs filled that people are looking for," Ostertag said. "As for how it affected [bid day], I think the administration's standpoint and the kind of way in which Greek life is now viewed affected [bid pool numbers] more than four clubs being missing."
Ostertag did say that, although the organizations that were forced to leave campus did have an impact upon bid numbers, he does not see that having been a significant factor.
"Some people say that the girls and guys will wait out to get into those clubs, they'll wait a year or something, but I don't think that's the reason that we had such low numbers this year," Ostertag said.
McGlamory acknowledges that there are many factors involved in the decision-making process that rushees must undertake. "I think men's rush was just a little lower this year, all throughout the process," McGlamory said.
For many students, choosing was a personal process not dictated by outside factors.
"I didn't end up pledging because I personally was not happy with my grades and also I knew I would be way too busy with 16 credit hours," Schroeder said.
As for those who did successfully navigate the rush process and join an organization, McGlamory has some advice for maintaining a successful semester.
"Take time for yourselves. If you feel like you are overwhelmed with school work, take time off from orientation events," McGlamory said. "Use the opt-out non-required status of all events and stay in and do your homework."
Leave a Comment